Google recently named Broadplace as their Number One TOP PERFORMING PREMIER PARTNER AGENCY at the Google Game On awards ceremony held at their new Kings Cross offices in London. Premier Partners are the highest and most prestigious rank of Google agencies – only the most skilled agencies achieve this status level.
Broadplace achieved 50 times more incremental growth than the average agency. Both the agency and their customers have experienced great recent growth and the agency has seen digital revenues grow in excess of 130% year on year. Google recognised Broadplace's continued ability to grow and sustain its client base – indeed, for a number of years Broadplace has been amongst the top 5 Google Partners in the entire EMEA region in terms of client retention which is currently running at a massive 97%.
Broadplace Managing Director Ajay Syal commented: "It really doesn't get much better than this, Broadplace are ecstatic about winning the Top Performing Premier Partner Agency award from Google. We  have won many awards previously but this one goes straight to the top of the trophy cabinet . This enviable recognition is testament to the passion, blood, sweat and tears that the entire Broadplace family has consistently delivered in the pursuit of excellence for all of our clients."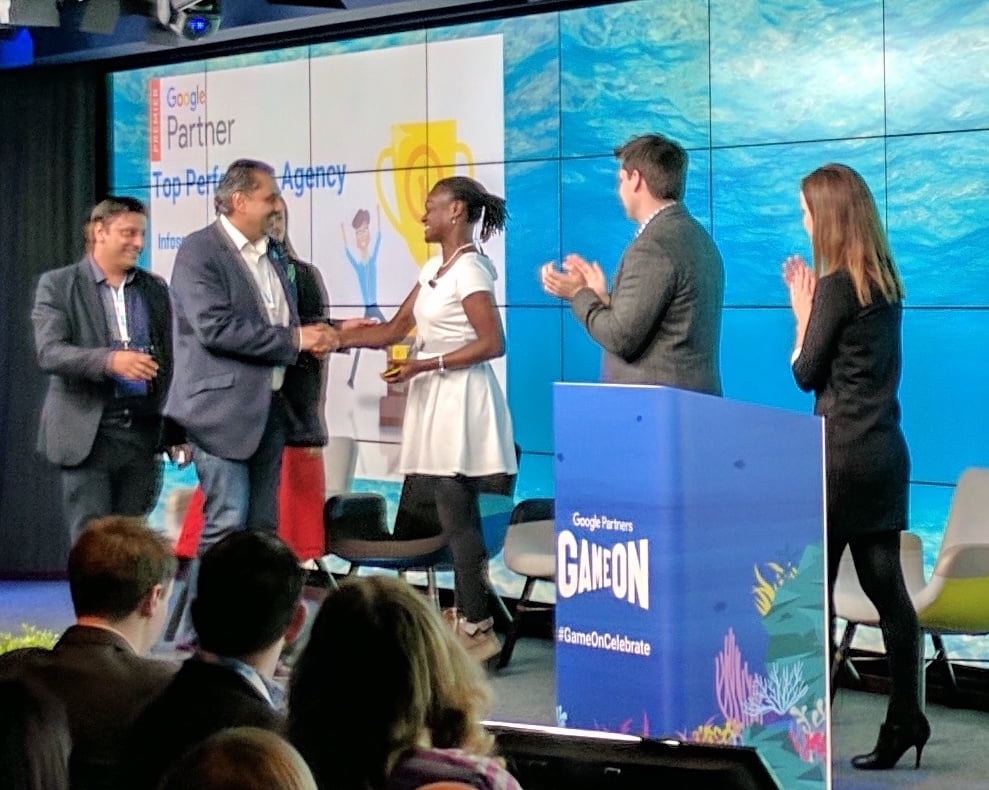 Ajay continues: "This is also great news for our clients because we believe that there is  a direct symbiotic relationship between our client's  success and our success. This is why at the heart of our company ethos and our mission statement we realise our purpose is to ensure we build and grow our clients' businesses first and foremost.  Referrals and organic growth have been our main drivers so to win the title of Top Performing Premier Partner Agency is real testament not only to our expertise and technology but our strong client relationships."
In the competitive digital agency marketplace (there are many thousands of agencies in the UK), it can be tricky for clients to choose which agency will be successful for them. Which is why the moniker of "Top Performing Agency", given by Google themselves, can help advertisers to understand who could provide the best service. Premier Partner agencies are defined by assessment of their overall performance which is evaluated based on client revenue growth and retention, and growth in overall revenue and number of advertisers along with the number of Google certified people affiliated to the agency.
The relationship between Broadplace and its customers is one of the reasons the company consistently outperforms other agencies. The company's transparency and flexibility breeds trust with clients, which allows the latter to grow their business – growing their online visibility and enjoying increased revenue as a result.
Key differentiators of Broadplace include proprietary technology, developed alongside Google engineers, and their own real-time, pro-active campaign management platform "CampaignHub" – helping hundreds of clients optimise and maximise their online campaigns. Transparent reporting and invoicing means that clients have complete access and knowledge of where their budget is going and how hard it is working for them.
As an established and experienced agency, Broadplace has been a Google Partner agency for over 11 years and is proud to have been part of the Premier Partner tier for the last three years now. A pedigree like this is rare in this industry and reflects the business values of transparency, integrity and expertise.