How many people do you actually know that have never used Facebook? Off the top of my head, I think I know 2 and that's it! 
Facebook has not only become an essential part of our day to day lives but it's also become a massive part of businesses too.
No longer can businesses get away with not being on Social Media. And increasingly they can no longer get away without advertising on it.
But it can be daunting knowing which platform to choose and why to advertise on it.
In this post, we are going to break down our top reasons why you should advertise on Facebook and hopefully win you round to the idea of Paid Social.
Audience Benefits
I've touched briefly on the topic of how normal Facebook is in our day to day lives, but just how big is Facebook's user base and what audience benefits can it offer a business?
Well, to start with, there are 2.8 billion users on Facebook as of 2021. In the UK alone there are 50 million users up from 39 million in 2018.
So not only is Facebook massive, it's showing no signs of slowing down. 
But how can you as a business owner make the most of this huge pool of potential customers who are just dying to spend money? 
Facebook offers some of the best targeting tools available across the internet and they regularly update and develop new ones (we will touch on this later).
To break this down for you, Facebook allows you to target your ads to users based on a huge pool of demographic data that can be acquired from a user when they sign up. 
Thanks to this, you have the ability to target your Paid Facebook ads to users using any of the below information:
Age

Gender

Location

Job

Title

Industry

Marital Status

Interests

Behaviour

Location
This means you can really drill down your campaigns and ads to target each and every user that fits your customer profile and target users on everything from demographic to geographic data.
Facebook also offers other targeting options like retargeting and lookalike audiences. These lookalike audiences are effectively made up of users who are similar to the users in your current audiences, meaning there is no need to guess demographics and customers profiles if you lack them. 
Then there is Retargeting which allows you to target ads to users who have previously visited your website, given your contact information or downloaded your mobile app. Effectively the remarketing equivalent for Facebook.
With all of this at your disposal, there is really no reason for not being able to target your customers with specific ads that are bound to deliver results.
Variety of Ad Formats
Facebook is very helpful for advertisers in that they regularly innovate and update their services. One of the more empowering features is being able to choose between Simple Ad Solutions and Advanced Ads Solutions based on your individual business goals.
These simple yet very effective tools allow advertisers to quickly choose advertising options based on their specific goals with the click of a single button. These ad solutions allow even the most novice advertiser to succeed on Facebook.
Simple ad solutions allow you to create ads quickly and direct from your Facebook page. You can do this by simply locating the promote button on your page, or by pressing the Boost Post button on a specific post to generate more clicks, likes and shares on a specific post helping you generate greater reach easily: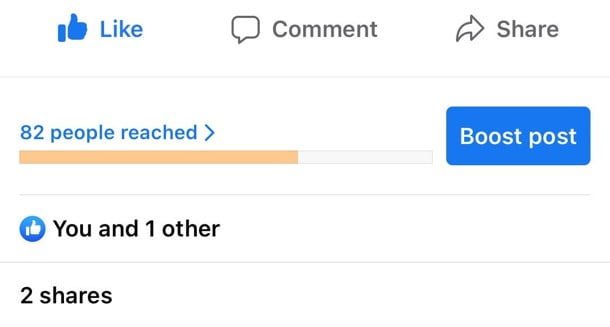 Here is a breakdown of the Simple Ad Solutions you will be able to use directly from your page:
Boosted Posts – Get more users to engage with your posts, generate more likes, comments and shares.

Page Ad – Get more pages followed by relevant users, perfect for growing awareness and longer-term engagement.

Website Ad – Get more users to click through your posts to your website.

Promote CTA Button – This allows you to customize your call to action and promote your pages objectives. Perfect for a variety of objectives like sign-ups, sales and website clicks.
If you want a little more control over your ads and have a bit more experience with Paid advertising then Advanced Ad Solutions, Facebook Ads Manager is for you. By simply pressing the create button in the campaign section of the Facebook Ads Manager you have access to all of the following ad solutions: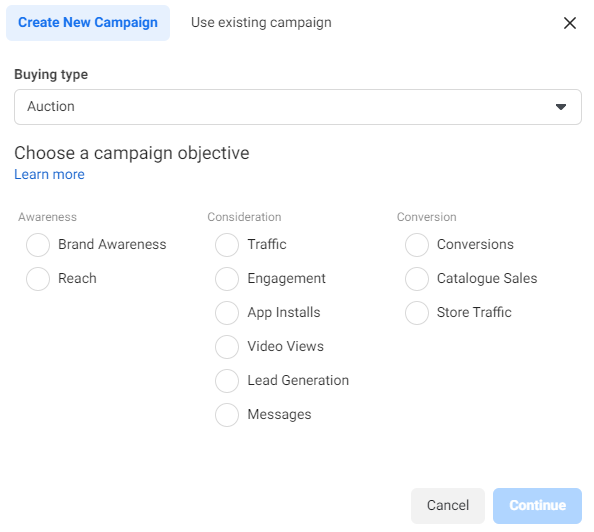 These ads allow you to create dedicated campaigns for each of your goals and provide powerful capabilities for a wide range of businesses and sectors. The main purpose of each of the 3 campaign groups is as follows:
Lead Generation – Gather leads from related customers on Facebook.

Conversions – Allow Facebook to take relevant actions on your site or app and use information like payment info or payment. Then use Facebook Pixel to measure your Facebook Ads conversion just like in Google Ads.

Brand Awareness – Boost your brand awareness and engagement by reaching users who care about you and your business.
To top all of this off Facebook also offers an extensive list of different ad formats that you can use to create immersive ads that are designed to deliver on your objectives. We've touched upon the difference between advanced and simple ads and what they look like, but below are each of the ad formats Facebook offers:
Image Ads

Video Ads

Slideshow Ads

Carousel Ads

Collection Ads

Canvas Ads

Lead Generation Ads

Offer Ads

Post Engagement Ads

Event Response Ads

Page Likes
Facebook Ads Gives You Access To Instagram
A lot of people still don't know that Facebook owns Instagram. This means that Facebook advertising is not just limited to the Facebook platform. Facebook ads also offer Instagram advertising which many businesses don't seem to be aware of.
All you have to do within the Facebook Ads manager is tick the box called Instagram under Ad Sets and then the Placement section. 
It's that simple.
Once you've done that, you can then advertise on Instagram using your Facebook campaigns directly from the Facebook Ads Manager: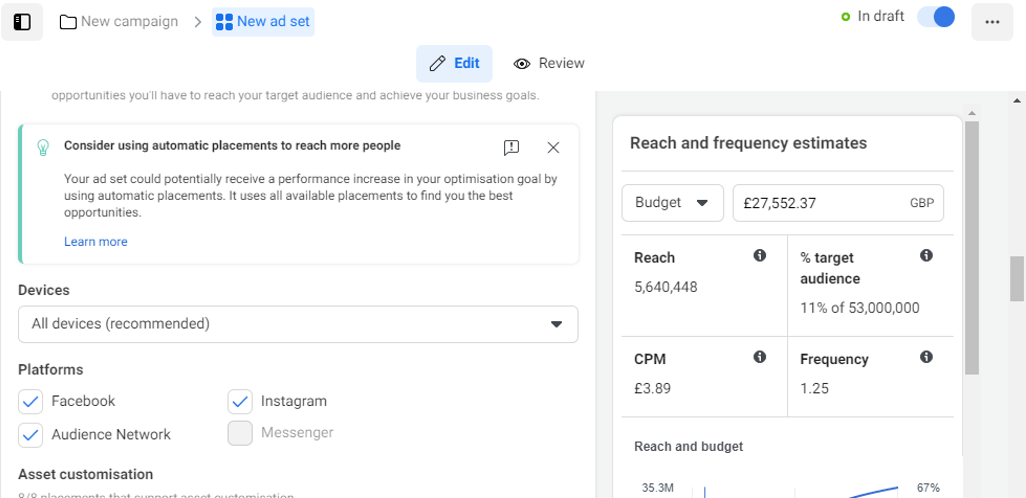 This is a great way to increase your reach and brand awareness as Instagram is just as powerful a tool as Facebook.
Success Is Measurable
You cannot run a successful Digital Marketing campaign without analytics. 
This is a fact. Having the proper setup and analytic data can help inform decisions, measure goals and understand your audiences better.
So with that said, it is incredibly important that any platform you use provides you with solid data. Thankfully Facebook has you covered, with some of the best analytics tools and reporting available.
Facebook allows you to track data such as impressions, reach and frequency but you will also be able to gather information around likes, shares, comments, page likes and click-through rates.
All of these can be used and tracked in real-time to inform strategic decisions and measure performance against your goals. Even better still, this can all be accessed within the Facebook interface. 
This can also be pulled into third party reporting software like Google Data Studio with tools like Power My Analytics. This then allows you to centralise data in a multichannel strategy where you have a variety of channels generating data.
Facebook also offers an incredibly useful tool known as the Pixel which can allow you to track specific events and really drill down the data you're able to generate, more on that below.
The Facebook Pixel
The Pixel allows you to track different actions that occur on your website as a direct result of any activity. These, once successfully set up, are known as events:

These events that the Pixel allows you to track, can be specially set up around your businesses goals and objectives, allowing you to track actions such as customer viewing points, pages they visit, purchases and a whole host of other conversion metrics and KPIs.
The Facebook Pixel can help you better understand how your customers use your site, interact with your ads and complete various goals, as well as measure conversions and work out metrics such as conversion rate and return on ad spend.
This information can then be leveraged to tweak aspects of your strategy to try and boost performance in certain areas that you were able to identify using the Information provided to you by the Pixel.
With all of this combined, you can get a really clear picture of how your ads are performing against your objectives and goals, and even get great visibility on specific conversion actions that are related to your business. 
This makes the Facebook platform so much more valuable because you can instantly see the results that have been directly achieved through your paid activity, and even use the data provided to scale and take your business to the next level.
Support Your Organic Strategy
 A lot of businesses' social strategy stops at Organic.
What these advertisers don't know is how effective Paid Social Media can be in supporting their Organic Social Media strategy.
Firstly, Organic reach has a limit. Your Organic posts will only reach the users who follow your page or regularly interact with similar posts. You can reach more users thanks to people who share your posts with their friends but it is very rare that Organic Facebook posts go viral unless you are sharing a funny video of someone's cat, or you are a multinational conglomerate with a dedicated content team.
In a business sense, only a few brands can regularly manage to produce 'viral' content that will gain millions of shares, but in that instance, those brands will already have many followers so it's almost not needed. 
For the everyday folk like you and me, it is a lot more challenging to generate that kind of reach solely using an Organic strategy, without using paid to support it.
To kick things off, you can promote Organic posts using the features we mentioned earlier in the simple ad formats section. You can quickly gain large amounts of traffic by boosting certain Organic posts and acquiring more traffic. There are obviously more pieces to the puzzle but it is a quick and easy way to gain extra traction on certain posts and use your existing organic posts to generate more traffic.
The reason this is best used for existing Organic posts, is because you don't have to spend hours designing new creative solely for paid social – you can quickly boost and effectively turn your content into ads. 
In essence, the two work hand in hand. Your Organic posts target users who are very interested in your brand and what you offer, as they have taken the time to follow you and regularly interact with your posts. Your Paid ads are then designed to reach users outside of this who have not yet had an interaction with your brand, but now you can combine the two.
Running paid activity alongside your existing Organic strategy allows you to target already acquired customers with brand awareness through Organic and users who you have not yet reached can be acquired through Paid.
You can also quickly turn organic posts into paid advertisements by boosting their reach using Facebook's promote feature, this allows you to quickly churn out Paid content with spending hours designing new content.  
This then helps you steadily grow your business, by generating a large pool of new users with customers outside your existing reach thanks to your Paid strategy and generating strong brand awareness and relationships with your existing customers through your existing Organic approach.
Facebook Provide Regular Updates
To wrap up our post as to why Facebook is worth advertising on, it makes sense to touch on Facebook's regular updates and what that means for advertisers.
Facebook is always innovating and looking for a new way to assist its users in reaching the best possible customers they can.
You've seen this with the Pixel but there is an extensive list of past and upcoming updates.
 Below is a sample of some of the past and future updates that Facebook has rolled out:
Exclusion controls for advertisers in beta testing:
Facebook is building and testing new advertiser topic exclusion controls with a small group of advertisers. This will help to address concerns about their ads appearing in news feeds next to not very 'brand-friendly", content.
New conversions API to allow businesses to share server data with ads manager:
Facebook's conversions API is a business tool that allows you to share key web and offline events or specific customer actions directly from your server to Facebook. The conversions API works with your Facebook Pixel to help performance and the measurement of your Facebook ad campaigns.
Improvements/changes to ad formats:
Facebook is always looking for ways to improve its ad formats. For example, in recent times, Facebook has continued to update their ad types by adding:
Polls to video ads

Updating story ads with the ability to start conversations in Messenger

Releasing the Creator Studio Mobile App

Allowing advertisers to send traffic to a mobile-optimized

On-platform shopping experience for auto inventory ads

Adding multiple text options

Expanding dynamic product ads
This is just a handful of some of the amazing changes Facebook have implemented in relatively recent times and they continue to innovate to give us advertisers the best possible experience on the Facebook platform.
To conclude
To conclude, we have touched on many different aspects of Facebook ads and what paid social with Facebook can offer. 
Despite the depth we have covered here, we are still just scratching the surface. 
If done right, Facebook can be used to take your business to the next level, so what are you waiting for? Jump into the world of Facebook ads and get creative! See what you can deliver for your business first hand and grow your brand online with a dedicated, in-depth paid social strategy now that you have been swayed to use Facebook Ads.