The question that all online retailers are asking is, what will the impact of COVID be on peak trading this year and what exactly can we expect from the busiest months of the retail calendar? With the help of Agency Development Manager Susie Gorman, we'll look at the impact that the Coronavirus and the lockdown has had on consumer habits and shopping trends, understand what happened in 2019 and how the changes may impact this year's Q4 trading and highlight some key tips to help your business prepare for Peak 2020.
It is a crucial time for retailers. Broadplace clients saw 48% of their online orders come in Q4 2019.
But it isnt just Black Friday and Christmas sales that see the volume, advertisers can expect to see growth in traffic and sales from October.
October is the new December
In 2019, October retail interest increased by 12.4% vs 2018, with November (+10.5%) and December (+12.2%) slightly behind in growth.
That doesn't necessarily comes as a surprise, with 19% of those surveyed by Google indicating that they'd want to start their Christmas shopping at least 2 months before Christmas. A further 1 in 5 people would want to have made their first purchases by the end of November.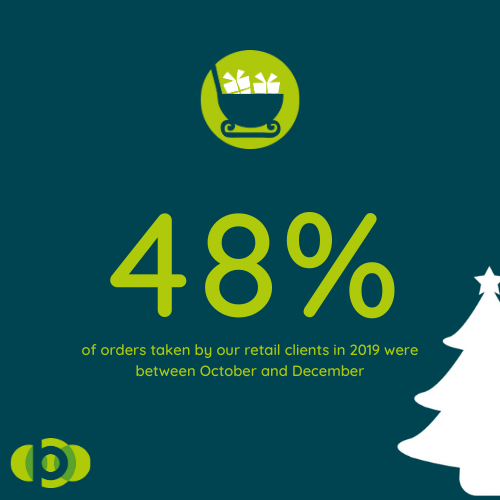 Black Friday was bigger than ever
But, Black Friday had a big role to play in 2019. It was a weekend later than in 2018 and that made all the difference. Along with people's growing appetite for sales, Black Friday also coincided with pay day last year and was one week closer to Christmas, helping kick off the December buying frenzy.
The retailers who worked with Broadplace saw a 33% increase in traffic over Black Friday week and a 20% increase in conversion rate, including a 35% day on day improvement for Black Friday itself.
It is a fiercly competitive day for advertisers, as thousands of new customers flood the market. On average our advertisers spent 86% more on Black Friday than they did on any other day that week, but still saw a drop in their share of voice, with impression share down 5% on average.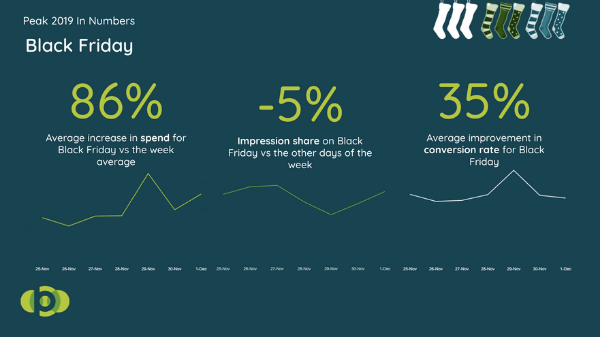 What has been the impact of COVID-19 on Online Retail?
2020 has seen an unprecedented acceleration of UK ecommerce, with online sales revenue growing by 47% YoY between May and August. With the impact of the coronavirus and consumer habits changing (some forced by lockdown and some as a result of cautious customers) the share of online sales has grown to 30%. With the threat of a second wave and local lockdowns coming into force, we fully expect that share of sales to continue increasing.
We've welcomed a new audience to online purchasing
There have been some notable trends within that growth, with the older generation seeing the biggest increase of sales online. The over 55s saw the biggest increase of any age group during the lockdown. This is good news for retailers, as the over 55s typically have a higher disposible income and spend more on average than other age groups.
Home & Garden leads the list of the most popular product categories
There has been a big shake up in the products and services that have sold well this year too. Garden and patio furniture was the biggest winner, growing by over 180% YoY. Online grocery shopping unsurprisingly was up at the top too, with people looking to avoid the supermarkets and busy shops. Other notable increases were seen by home fitness equipment (+130%) and Bicycles & Accessories (+125%). A lot of home and living categories saw big increases, with skincare also a category in demand. Dresses, formal wear and swimwear all saw a big decline in interest this summer, as our social and holiday plans were left in tatters.
But maybe the biggest impact of COVID we are yet to see. The knock on effect of the potential job losses and a shrinking economy could put a real squeeze on the retail industry and limit spending considerably. We've already heard announcements from some major employers in the UK, with construction, retail and travel companies all suffering from the impact of the lockdown. With the furlough scheme set to end next month, the worst may be yet to come.
What can we expect in Peak 2020?
Peak in 2020 will look different to previous years. We expect changes across the popular categories, the distribution of the sales (from offline to online) and when we can expect the big growth in sales.
Many of the trends that have been establish during the lockdown and early 2020 are set to continue. 
Online sales will continue increasing during peak
Omni-channel retailers can expect their online sales to increase and the footfall in shops to continue dropping. According to the Google study from the summer, 2 in 3 people plan to do their Christmas shopping mainly online this year with 30% of people having no intention to do any shopping on the high street.

A shift from luxury brands to value purchases
In 2019 big brands were sought after and customers took advantage of the offers to buy luxury and high value goods. Research suggests this year that customers are going to looking for more bargains, lower priced value goods as the pressure on jobs and economy take hold.
27% of people surveyed stated they planned to spend less on holiday shopping in 2020 than previous years, with only 8% getting ready to spend more this time around.
Earlier promotions will stimulate purchases
The expectations are that peak could come earlier this year. If the price and promotions are right, 46% of those survey that they'd be willing to start their Christmas shopping ahead of when they had planned. Online is going to be an even more competitive space for retailers, so the race to get offers out could mean customers no longer have to wait until Black Friday to get a bargain.
New and lesser known businesses can establish themselves
There are opportunities for lesser known names and local retailers to gain new customers. There was a rise in trade for local online businesses during COVID, particularly within home and groceries as traditional powerhouses in retail struggled to meet the increase in demand. It has created a new buying behaviour. 73% of those surveyed indicated they'd be willing to buy from a business they've never bought from before.
Self-gifting
According to studies, 1 in 3 people expect to buy themselves a treat while they shop for gifts for others. This has become an increasingly popular trend, with the temptation to splash out on ones self too much to pass by. Clothing, Footware and accessories, Fragrances and Electronics are all popular items for those self-gifting. The power of retail theropy may be needed this year more than ever, so expect self-gifting to be a big trend for 2020.
What can businesses do to prepare for Peak 2020?
We've put together a whole article to help retailers prepare for Black Friday and peak.
We look at how you use technology, prepare creatives and offers and provide a checklist with deadlines to ensure your business is organised.
Summarising our thoughts on Peak in 2020
Peak this year will be very interesting for retailers. We're going into the key months of the year having had all of our norms completely changed. Those that are still working are mainly do so from home. People are unsure about shopping on the high street. Consumer spending has changed, with what is popular and who is buying having changed a lot of the last 6 months.
Now is the time to really get organised, be alert and mindful of the changing trends. The retailers that are watchful and responsive to consumer behaviour will the ones that prosper in 2020.