Black Friday is when we all get very excited about crazy bargains and mega sales, but the day started so much earlier than you'd think. The day after Thanksgiving (the last Thursday in November) has long been considered the unofficial beginning of the Christmas season. The Friday after Thanksgiving really became famous when big department stores such as Macy's started their Christmas parades on this day and these boosted holiday sales for retailers.
If you own a shop yourself, you'll know that the festive period or 'peak' means big business. The peak season is the time of year when demand for goods is at its highest and this typically falls during gifting periods.
So, have you reviewed whether your search strategy fits with the current Black Friday trends? In this blog, we'll be talking you through what to expect for the holiday season and how to plan your strategy.
When is Black Friday & Cyber Monday This Year?
The key dates to remember are:
Black Friday Week 23rd-29th November
Black Friday 27th November
Black Friday Weekend 27th – 29th November
Cyber Monday 30th November
What's changed since last year…
Not to ignore the elephant in the room, COVID, lockdown and the impact on our lives and the economy. There has been a huge change to the day to day lives of billions of people right across the globe. This has had a profound impact on the retail sector and how people are shopping. We take a closer look at the impact of the Coronavirus in our blog on What to expect from Peak in 2020.
Black Friday is a couple of days earlier in the month and miss pay day for some. Cyber Monday is on the final day of November, by which all people will have been paid. We could see a shift of demand from Black Friday to Cyber Monday as a result.
The development of Smart campaigns, particularly Smart shopping. Microsoft have recently released a test version of their Smart Shopping campaigns and Google's Smart Shopping campaigns go from strength to strength. Utilising the technology is a big factor in the success of account performance.
Planning your PPC strategy for Black Friday
The first step in making sure that your PPC strategy is on point is to make sure that you understand the search behaviour around Black Friday. When searches peak and when they drop off. Below is a little snapshot of some of the behaviours we have seen.
Key Black Friday search trends
Searches containing 'Black Friday' ramp up around 2 weeks prior to Black Friday, with the volume growing day on day until Black Friday itself
Search volume for the products can start as early as October. Be mindful this year that retail trends may not follow the norm, and that any early promotions by competitors could instigate a rush into the market for many customers.
Searches containing 'for him', 'for her' and 'for kids' increase from November, as people start to look for Christmas presents. 1 in 5 people surveyed by Google aim to have started their Christmas Shopping 2 months before Christmas.
On Black Friday itself, Branded search terms outpace non-branded, the research has been done and consumers know where they want to shop. But just because you're not a well known brand, that doesn't mean you can't build awareness. 73% of people surveyed by Google said they would be prepared to purchase something from a retailer they'd never bought from before.
Searches for 'presents' and 'gifts' increase after Black Friday Weekend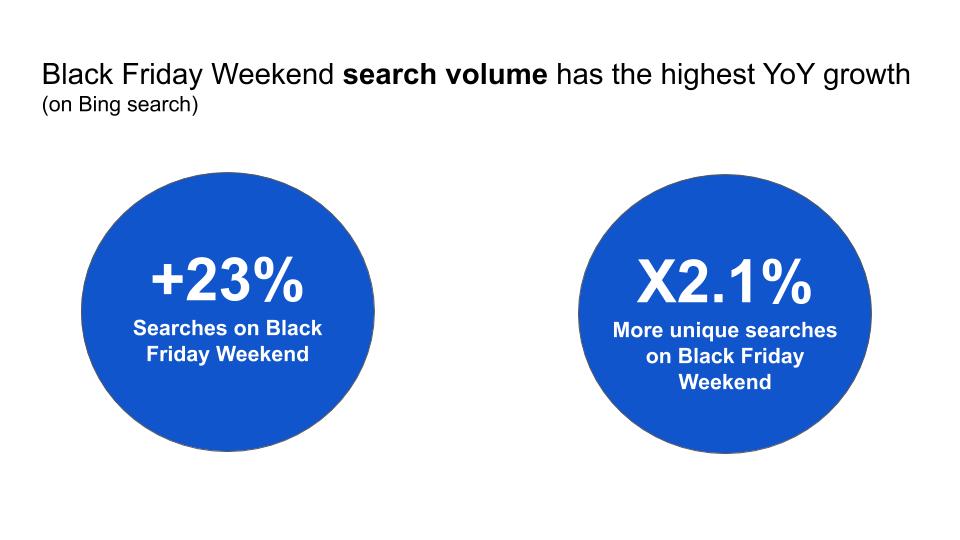 How to prepare your account for Black Friday
As the old saying goes "Fail to prepare then prepare to fail" and that's especially true when it comes to preparing your account for Black Friday and the Holiday Season in general. So to help make sure those accounts are ship shape we've compiled a list of top tips below:
Start organising your activity as early as possible.
Be organised with your creatives, offer and messaging. It can take some time for any new assets, copy or imagery to get approved on the platforms. By getting in early, you'll avoid the backlog and remove the risk of your ads not being approved in time for the peak days.
Pe prepared to spend
Activity will increase across all campaigns as new customers flood into the market. You can use last year's data to predict for what budget and targets you should set.
Businesses who only increased their budget by just 10% or 20% saw big drops in their impression share and share of voice last year.
Retailers will need to be prepared to increase their budgets and Max Bid if you want to maintain visibility, setting your daily budgets and CPCs at a least 2x the normal cap. It is a fiercely competitive time of year to advertise and retailers that don't raise their caps will be left behind. Advertisers with Broadplace spent on average 86% more day on day in 2019 for Black Friday, but still saw a drop in impression share.
Keyword targeting changes
Black Friday and the surrounding weeks are a good time to use more broad keywords, helping you capture new variations of generic non-brand terms. In combination with Smart Bidding/Smart Campaigns, the platforms can make informed decisions about these new searches and will act to ensure they hit your targets and goals.
Consider new DSA (dynamic search ads) campaigns to reach capture even more search activity. DSA uses the content on the website pages to find potential customers, which is great way to match potential buyers with products. You can the use the data and insight from DSA to build your keyword strategy.
Use keyword variations for product categories, adding 'for him', 'for her', 'for kids' to help target gift idea searches. Expanding keywords to add 'gifts' and 'presents' is also a great way to reach those kind of audiences.
Know your key audiences
There are a lot customers that enter and leave the market during Black Friday and the holiday retail period. Not all of those customers should be treated equal. What we know about a customer can help inform your targeting strategy.
The data that you should have access to as a retailer includes:
previous purchasers – cut this data by the type of product they purchased or the value of the purchase
website visitors – you can slice this data by looking at multiple look back periods (eg last 24 hours, last 7 days etc), the products they viewed, whether they added to cart, bounced, page views or time spent viewing the site.
demographics, lifestyle and interest information of customers
There are a few ways you can use that data.
custom messaging
prioritising specific products
filtering particular audiences / user groups
modelling and finding lookalike customers
retargeting
If you create and organise your audience pools effectively you should know enough about your customers to identify which products are being viewed and most popular, who has abandoned cart recently and who your highest value customers are. Create strategies to target those user groups around the key times.
In the run up to Black Friday we find that targeting audiences that have short look back windows (e.g. last 24 hours to 2 days), basket abandoners and previous purchasers is the most effective strategy for identifying the best prospects.
Feed optimisation
If you rely on Shopping Campaigns, which most retailers would, you need to ensure the data that feeds the product listing is optimised. If there are any attributes missing, titles or descriptions that are underdeveloped or duplicated, or if product categories are incorrect you may not get the impressions or clicks on listings that you were expecting.
With the amount of searches that take place around Black Friday, it is important to get your product feed in order well in advance. Using a feed optimisation tool like Shoptimised can help you get those listings performing in time for peak.
For more on Product Feed Optimisation, check out our services or read our blog on What is Product Feed Optimisation.

Summary
So, what can we learn from the above?
Don't limit your campaigns – radjust bidding strategies accordingly, budgets and CPCs to ensure you maintain good visibility
Review your keyword and targeting strategy to including extra search terms like 'gift' and 'present' to maximise Christmas sales.
Utilise audiences to capture those who have spent time researching your brand to ensure they make that purchase on your website.
Feed management is the key to success for product listings. Review or audit your product feed as soon as you can.
Be most importantly, be organised. All of the above only works if it is in place on time. Avoid issues with approvals, updates, promotional changes by doing it ahead of time. Don't miss out on sales because audiences or ads weren't set up in advance. Follow the below checklist to help guide you through the steps: