When it comes to advertising on Social Media it's not uncommon for us to hear from clients that they feel the platform is aimed at too young an audience or that it will be too expensive. Whilst Facebook was originally aimed at university students, it is now very much a platform used by people of all ages. Reaching those audiences can be scalable and completely adaptable to your means and budget.
To give you an example of how Facebook can achieve great things on a small budget, here's an example. We've been working with an online travel agent who offers camping holidays in Spain and France. They target customers in the UK and Ireland where they have  strong competitors offering the same holidays at the same campsites. They wanted to see if it was possible to use Facebook to help increase their market share and their subscriber base in the competitive market they were in.
The client had a budget of just £300 and had two goals:
1. To increase online bookings by 20% over a 6 month period.
2. To grow their online database from 800 to 10,000 over the same 6 month period.
The one compromise our client had to make while working with their small budget was deciding which of the goals they wanted to prioritise. It wasn't going to be possible to achieve both goals.
Using the client as an example, we wanted to give you the 4 steps we took to ensure we delivered a successful Facebook campaign on a small budget.
1. Have a clearly defined objective
As we outlined above, a smaller budget will limit the options as to what can be achieved, but there are still a lot of possibilities. Having a narrower focus on what you would like to achieve will increase the chance of success.
The other advantage with specific objectives is that they can usually align to one of the Facebook marketing objectives within the platform.
Our client wanted to grow their clients database and community of contacts from 800 to up to 10,000 by the end of the season, which worked out at roughly 100 new users per day.
Building an engaged community on the company's Facebook page would be a good start, so when the campaign was set up we looked at 'Engagement' > 'Page Likes' as our key deliverable.
2. Identify the key target audiences
With 2.3 billion users on the Facebook platform each month, there is a huge audience to potentially target. On a small budget, it isn't realistic or sensible to target everyone.
It is better instead to be selective about the types of people that you'd like to see your ads and who would likely respond well to your brand. There are quite a few options available when considering the audience you'd like to target; a person's interests, the other brands or competitors they follow, their location, age or gender, even their personal circumstances. Getting an effective blend of these targeting options will help set your campaign on the right path.
There are a variety of ways you can establish who those people may be, whether that is reviewing the audience profile on your existing Facebook page or in Google Analytics or delving into your CRM data. If you're goal is about building brand awareness, consider the gaps in the current audience that your business has. However, if you are more more focused on performance and conversion, target an audience that resonates well with the brand already.
It is possible to test different audiences and understand which responds better. By focusing on a set objective, the Facebook algorithm can learn and weight spend towards the audience (ad set) that is delivering most effectively.
For this particular campaign we looked targeting both males and females aged between 18 and 65+ living in the United Kingdom and Ireland which by itself was quite a broad audience. To qualify it, we agreed to filter this by targeting with our main competitor customers followers, users we knew were receptive to following travel brands and products that were closely related to our clients'.
3. Ensure the creative supports the objective
A strong campaign and ultra relevant audience targeting can be all undone if the creative is not fit for purpose. It is important that the imagery or video and messaging is engaging and is aligned with the overall campaign objective. With a limited budget, it is even more important that the ads deliver.
The main image assets and messaging don't have to be limited if you find there are a variety of options that are relevant. Actually, the more options you have the better. Facebook's optimiser can find you the most effective placements, formats and test the imagery / messaging combinations that are most likely to deliver the outcome you're looking for from your campaign.
For this particular campaign we experimented between value messaging and discount messaging to see which drove the highest engagement. The video creative also varied between energetic / action shots and more serene scenes.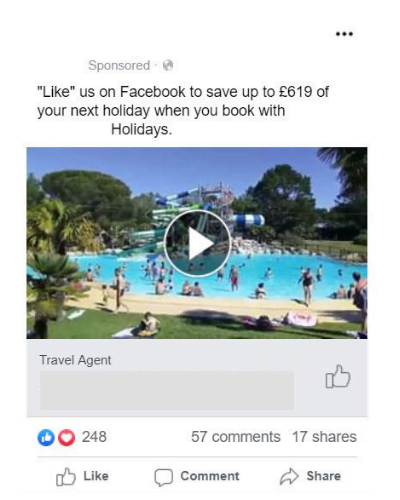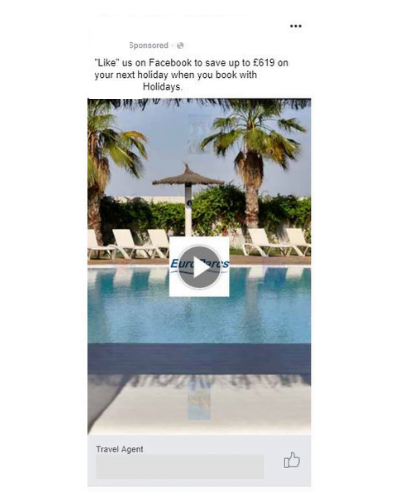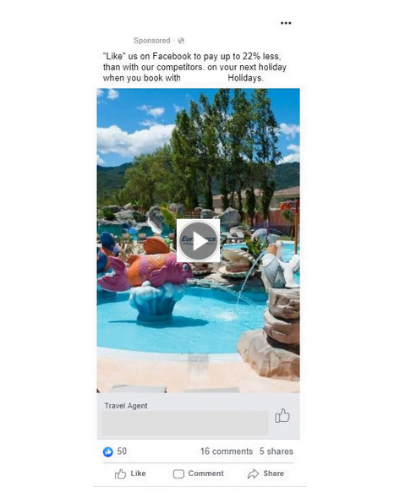 4. Analyse the performance regularly & understand the key metrics
Despite all of the in-built optimisers and algorithms that are built into the Facebook platform, it is still important to keep a close eye on the performance of the campaigns and manage them effectively. There are levers that you can push and pull to tweak performance and make the limited budget work as hard as possible. So don't commit all of that budget at once, before you've tested and learnt what works. Instead, maybe think about running the campaign in increments and use the learnings from each phase to inform the next stage.
There are a number of areas which can have a huge impact on the cost and performance of your campaigns:
Key areas
Firstly, ad placement. The auto placements feature can work well for some but doesn't work so well for those not on mobile . Consider the predicted CPC and rate of impressions for each platform and intervene on the placement allocation. However, you must remember to give the algorithm enough time to learn before making those decisions.
Audiences is another option to consider. Again, depending on the setup of your campaigns Facebook may be auto optimising the spend between the selected audiences. With that said, remember that some audiences are more sought-after than others and the average click price (cpc) will vary.
Relevancy score helps guide advertisers on the quality of their campaign, in terms of the target audience and how it is being received. People asking to stop seeing your ad will reduce the relevancy score. However, users engaging, liking, sharing or watching the ad will improve it. The score is out of 10 and the higher the score, the less you'll pay per click (in general). To improve the relevancy score, look at the audience and ensure it is relevant for the ads being shown. Alternatively, addressing the creative and ensuring the most effective and engaging ads are getting prominence.
Scheduling of your ad to run at particular times of the day or days of the week may suit a particular goal, particularly if you are hoping to generate leads or phone calls. Showing the ads at all hours will exhaust the budget quicker, so use the ad schedule to optimise the campaign. Be sure to increase reach around the most effective times of the day for your business.
Summary
Regardless of the campaign you would like to run, it is possible to do on a small budget on Facebook. Remember the key points around having a focused objective, relevant targeting with a specific audience set. Use a strong creative and make sure you close eye on performance to tweak when necessary. If you do all of this, you can definitely find success.
Has this blog inspired you to think about investing in Facebook advertising?
Call us today on: 020 7993 9853 or email: contactus@broadplace.com