Understanding search intent is fundamental to optimising a website for SEO. Over time, Google has gotten better and better at understanding what users are looking for and making sure the SERPs serve the right content for that search. Gone are the days of 10 blue links. Now we have a set of SERPs that could feature anything from videos to answer boxes to product carousels and everything in-between, depending on the search. 
It's gotten to the point that the golden rule of SEO now is to make sure our content matches what the user is searching for. Time now needs to be spent understanding the landscape of the SERPs to get a better picture of the user intent so we can make our content as relevant as possible to rank better.  
In this post, we will look at how we understand search intent, and how we can fulfil it.
What is Search Intent?
Search intent is the term used to describe the purpose of an online search. It's the reason why someone conducts a specific search.
A user can have many different reasons for searching online- anything from wanting to see what the weather is like to purchasing a new pair of running trainers. Understanding user intent is attempting to understand the reason that people are searching. 
Why is Search Intent Important for SEO?
For SEOs and content creators, understanding the intent of the search is crucial for ranking well. 
For example, say you're running a search for "Size 9 Adidas Predators", you'd be pretty disappointed if you saw a 2,000 word blog post on the "best Adidas Predator football boots ever". Likewise, if you were looking for "how to fix a punctured tyre", you'd probably want some sort of video walkthrough of how to do it.
If you're not getting the results that you want for your search, you're going to be pretty disappointed and probably go somewhere else for them. And Google knows this. That's why it tries to make sure that the content format and what's on the page meets the users expectations.
So, if you're pulling together any strategy for SEO and you're not factoring it in, then it's set up to fail from the start.
4 Basic Types of Search Intent
Before we go into how to fulfill Search Intent, we will start with the 4 basic types. Most people working in SEO will be familiar with these principles as they form the foundation of understanding user intent.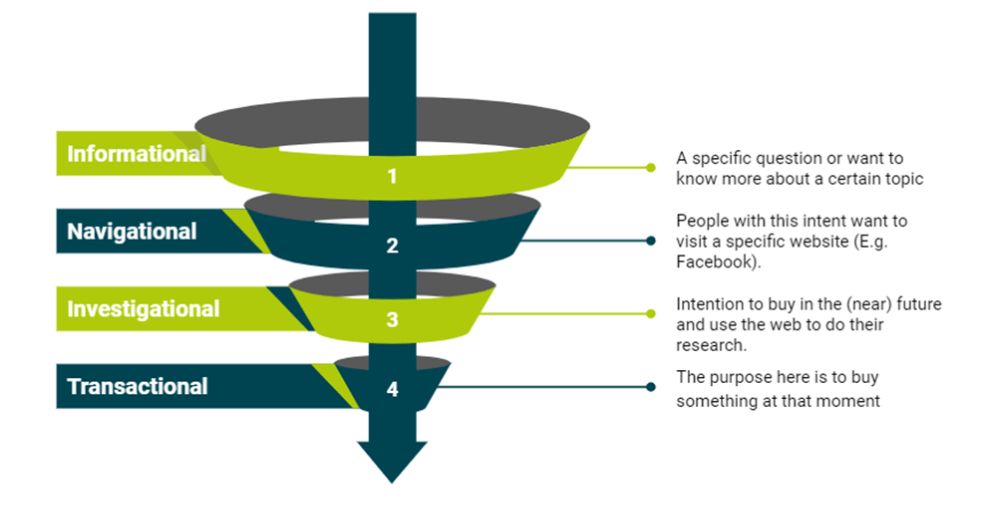 1.   Informational
These are types of searches where the user wants to find information on a particular subject, or have a question answered.
An example of an informational search is below.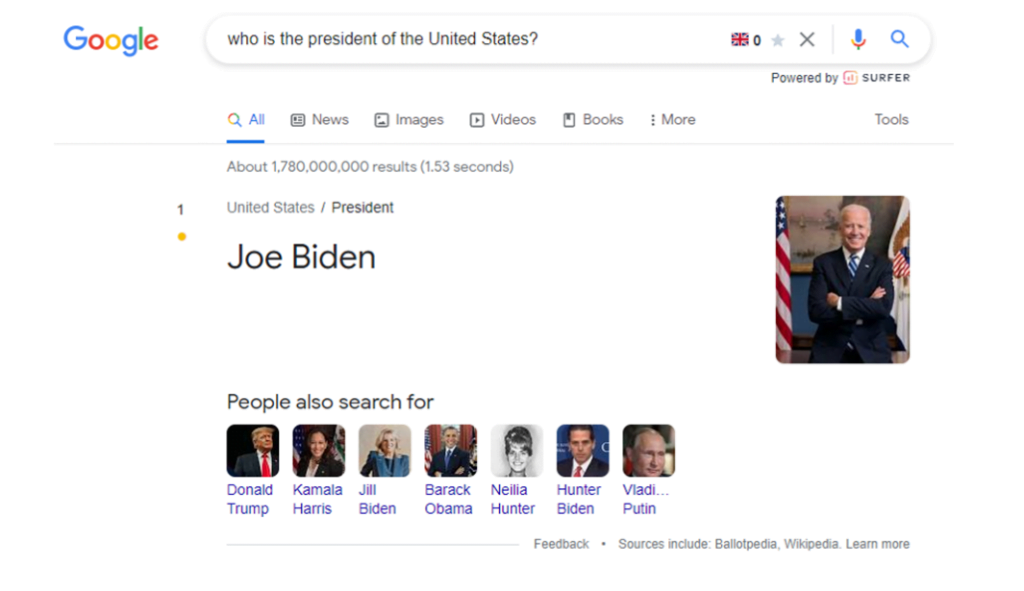 We can understand if a search is informational by analyzing the SERPs and looking for SERP features like featured snippets and knowledge graphs.
The type of search terms they use is also a dead giveaway with typical keyword modifiers like the below being associated with Informational Searches.:
How

Where

What

Tutorial

Resource

Idea
2.   Navigational
A navigational search is when users are trying to go to one destination.
An example of a navigational search is below.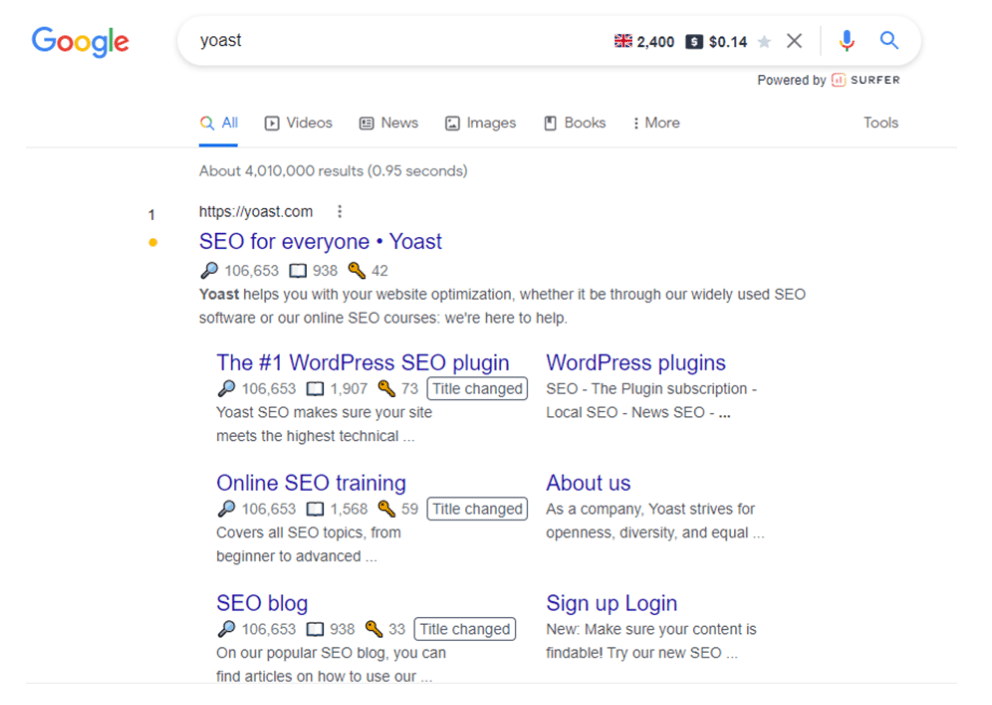 The characteristics of a navigational search are that there are typically a lot of sitelinks in the SERP.
Typical keyword modifiers for navigational searches include:
Brand Terms

Name of the Service

Name of the Product
3.   Investigational
Investigational searches are when the user is investigating which product or service is best for them.
An example of an investigational search is below: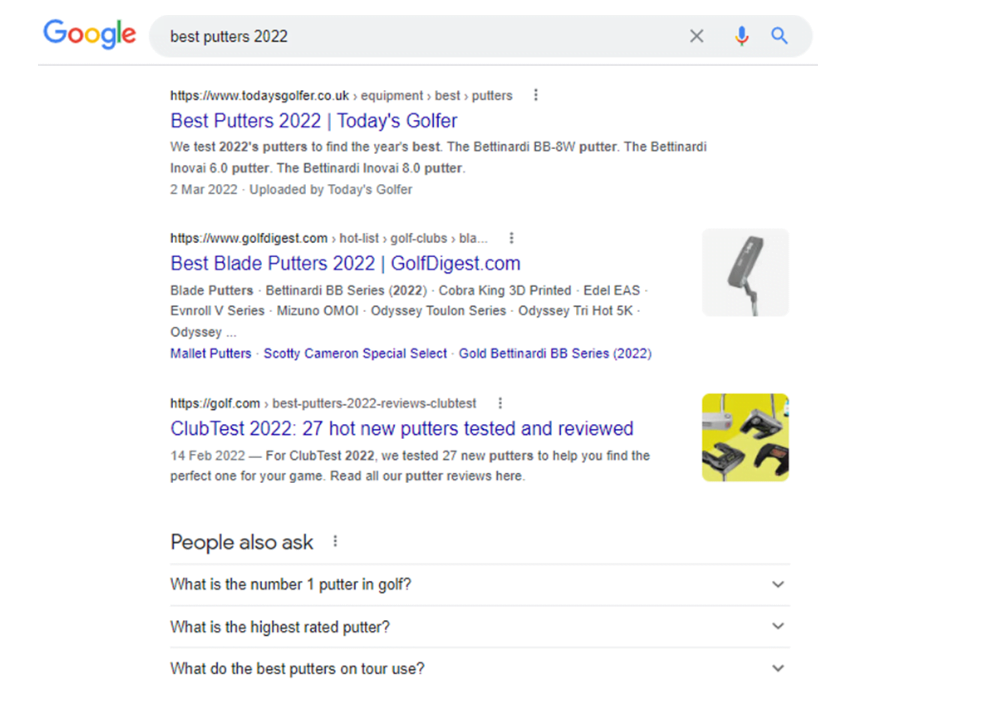 The characteristics of an investigational search are that the SERP includes reviews and rankings, comparison tables and investigational questions in the 'People also ask' section.
Typical keyword modifiers for investigational searches include:
Top

Review

The attribute of Product (Size, Colour)
4.   Transactional
Transactional searches are when the user's intent is to purchase a product.
An example of a transactional search is below: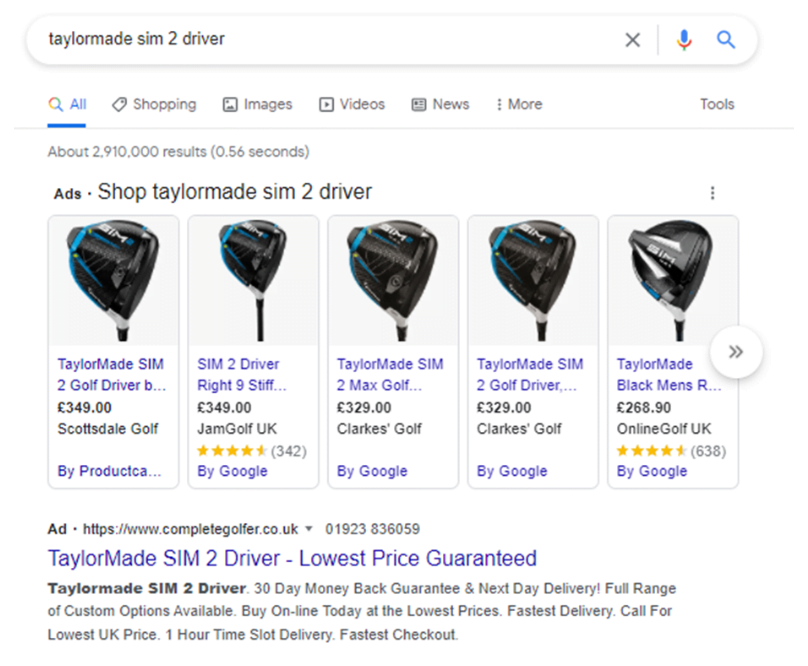 The characteristics of a transactional search are that there are a lot of ads showing up, that product pages are ranking and that there could be a shopping carousel.
Typical keyword modifiers for transactional searches include:
Buy

Order

Purchase

Cheap

Price
Can a search have multiple intents?
The 4 types of user intent are a simplified version of what you'll find on the SERPs. In practice, there will likely be a number of different search intent types where either Google themselves haven't yet worked out what the intent of the search is, or users have different intentions behind searching the same thing.
This is something you need to be aware of when targeting a keyword and conducting research. Depending on the type of content you're creating there may only be a couple of slots you can rank for.
An example of a SERP with multiple intents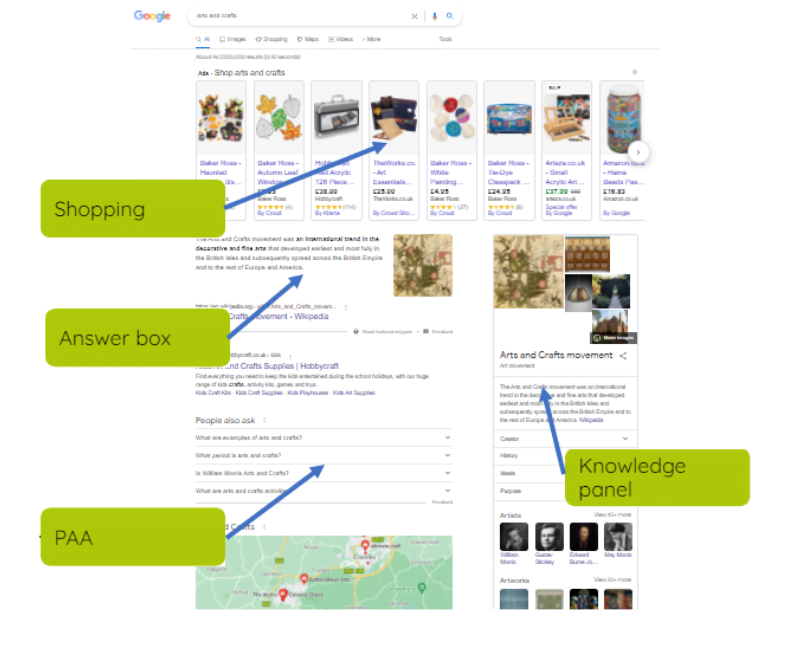 How to fulfil the search intent
The search intent dictates the type of page you need to create to target it. For example, if the search has "Best" in it, it's more than likely going to be a listicle. You will see in the SERP that listicles rank well for this content, so this page type must be reflected when creating the content yourself. 
As I have pointed out, there can be more than one search intent represented in the same search, this means that more than one-page type can rank for the same search. This being said, matching the page type to the user intent gives the best chance of ranking well. 
Once you have conducted your initial research to see what the user intent of the search is, we can set about matching this. 
Below are examples of page types with the most common intent next to them:
·         Category Landing Pages (Investigational)
·         Sub-Category Landing Pages (Investigational)
·         Product Pages (Transactional)
·         'How-to' guides (Informational)
·         Listicles (Investigational)
·         Vs / Comparison Posts (Investigational)
Create the content that the user wants.
Once you have studied the SERP for your chosen keyword. You can make a note of the page type which you think will match the user intent best. This can be included when briefing a copywriter about creating the page or when conducting full keyword research.
Conclusion
There is a vast amount of different user intent behind searches. Creating content that matches the search intent is crucial to ranking well. We need to be aware of the four fundamental types of search intent but be aware that there are subtle differences, and that Google can serve more than one intent on a single SERP.
The first step is to study the SERP for the search which you are trying to rank for. Take into account the features on the SERP itself such as the use of answer boxes, map packs and sitelinks. Then take into account the type of page which is ranking – is it a product page? Is it a listicle? 
Once this is clear, this will give you a better understanding of the content you need to create in order for it to succeed. Tailoring your content to match the search intent will give you the best chance of ranking well and achieving your goals.