Updating your old blog content is an important part of any SEO strategy. It can be a great way to gain some immediate results, requires less time upfront and needs less sign-off.
But how do you update old blog content to help increase organic performance? Within this post, we will outline everything you need to know on updating content for SEO.
Why should I update old blog content?
You're never going to get everything right on the first go, so it's essential to continue to develop each piece of content and improve its chances of bringing in quality traffic. On your first attempt, you can often find:
You've missed a key topic that you should have covered
Your subheads aren't quite right
You've not got the right balance between readability and keyword targeting
You haven't spent enough time and effort on the graphics
There are also situations where a piece of content previously brought traffic to your site, but competitor content has overtaken it.
We also know that results and intent within the SERPs (Search Engine Results Page) aren't always static and can fluctuate over time. It may be the case that behaviours within the SERPs have changed, and your type of content is no longer what users are looking for.
All of this means that content is a "one and done" thing. It's more of an iterative process that you constantly need to revisit. Otherwise, there could be consequences for your site.
The impact of having outdated content on your site
If your site continues to host a large amount of outdated and inaccurate content within your blog, then Google will know that:
It isn't trustworthy
You are not an authority within your market
There are also rare instances where larger websites with millions of URLs will need to consider the impact on their crawl budget. If Google continues to revisit your site and crawl and index outdated pages, it won't be able to focus well on your new content.
You should also consider how your content looks from a user's perspective. If they're landing on a blog that's outdated or inaccurate, why would they trust you over your competition?
What tools can I use to help with updating old blog content?
When looking to identify opportunities within old blog content, there are a few essential tools that I always rely on.
Google Search Console – Search console is always my first stop when reviewing how a site's content is performing. You can use it to see all the search terms your posts are ranking for, as well as the clicks and impression data.
Semrush – I use Semrush as a way to check which keywords a site's content is ranking for. You can also use it to check on your competitor's like-for-like content to identify what terms their posts are ranking for.
Ahrefs – Ahrefs is a tool that is similar to Semrush. When looking to update old blog content, I use it to check up on whether a post has a number of strong backlinks pointing to them.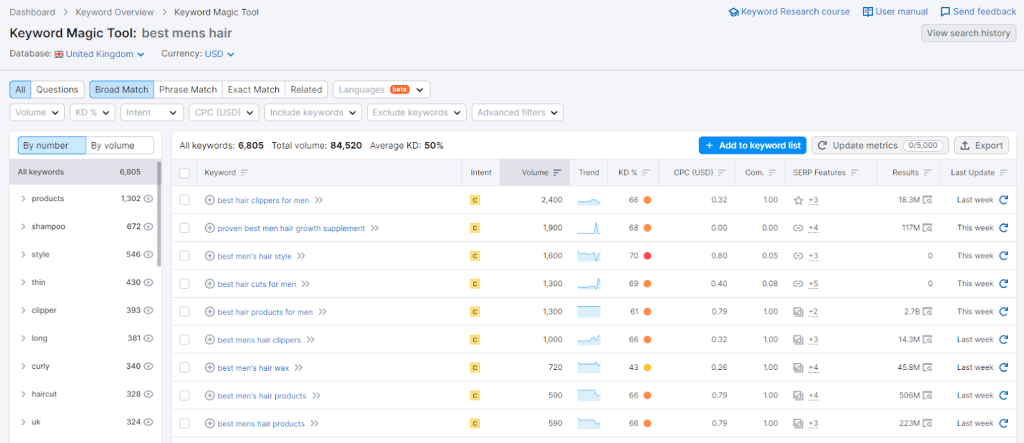 These tools are a great way to conduct competitor analysis. You'll be able to find out what content is ranking for specific queries/terms and give you a rough idea of the number of backlinks you're dealing with.
If you find yourself competing with blogs that have a high number of backlinks and authority, there's a good chance you'll struggle to compete with them.
What types of blog pages should be updated?
When identifying the content that should be updated on a site, they tend to fall into 5 categories.
1. Pages that used to do well but have seen a drop-off
You might have a page on your site that you're used to seeing pull in a good share of traffic but recently has seen a drop-off. This is typically a sign that this content is a prime candidate to be updated.
This post may have suffered due to a competitor updating the content on their site or adding better value content.
2. Content that is close to page 1 but needs a boost
It is also likely that you have many pages on your blog that are close to breaking into the top 10 of the SERPs but need a little push. These either aren't answering the search completely, are poorly optimised or are poorly structured.
3. Pages that had high expectations but fell short
These are pages that had ambitious goals. You either thought that they were going to drive a lot of traffic, and leads or have ridiculous user engagement. Pages like this usually fail because the competition is too high or they were executed poorly.
We've all been there; you hit publish on a post that you think is a prime candidate to drive traffic. But it fails to rank and any value.
It is crucial to identify what went wrong within these posts. Was there too much competition? Was there a formatting issue? Do competitor posts add more value? By identifying the problems, you can then solve them and hopefully have the post bring in the traffic you hoped for in the first place.
1. Pages that are performing well
Yep, you read that correctly. Even the content driving quality traffic and value to your site can be a prime candidate for revision and republishing. If you know these pages are of high value and importance, it is vital to ensure they stay that way.
2. Seasonal Content
The last type of content on the list is seasonal posts, e.g 'best recipes for Autumn'. This content is likely to become outdated very quickly and can often have a short impact on traffic. Recycling these posts each year can be a quick content win for any SEO strategy.
How to identify pages that could be updated
Step 1: Check overall blog performance in Google Search Console
Google Search Console is the first place to visit when identifying content to update, as it allows you to view the organic performance of your site over time.

Looking at the above example, you can see that over 16 months, blog content on this site has consistent numbers in terms of impressions but a significant fluctuation in traffic over the past couple of months.
Step 2: Choose a relevant month-over-month view
The next step I take is to try and get a more specific view of what has happened rather than looking at the bigger picture.
As mentioned previously, certain topics covered within your content may be more seasonal than others, so it is important to ensure that you pick a relevant date range.
A great way to do this is to switch your view from a flat date range to a comparison view. Looking at the data in this way should give you better insights into what has seen a drop-off over time.
Step 3: Export the data into a spreadsheet / Google Doc
The next step is to export the data shown in Google Search Console into a spreadsheet. To do this:
Filter the site's blog content.
Choose a relevant date range.
Click the export button in the top right corner.
This can be either a Microsoft Excel Sheet or a Google sheet; it is up to you.
Once you have your data in a spreadsheet, you can format it to identify the pages that have seen the most significant drop-offs over your selected period.
To do this:
Add a column to the right of your clicks columns.
Add a column to the right of your impressions columns.
Subtract the previous date range from the last date range, i.e. 'previous six months – last 6 months. Example (=C2-B2)
Do this for both the clicks and impressions.
From there, your excel sheet should look similar to the below: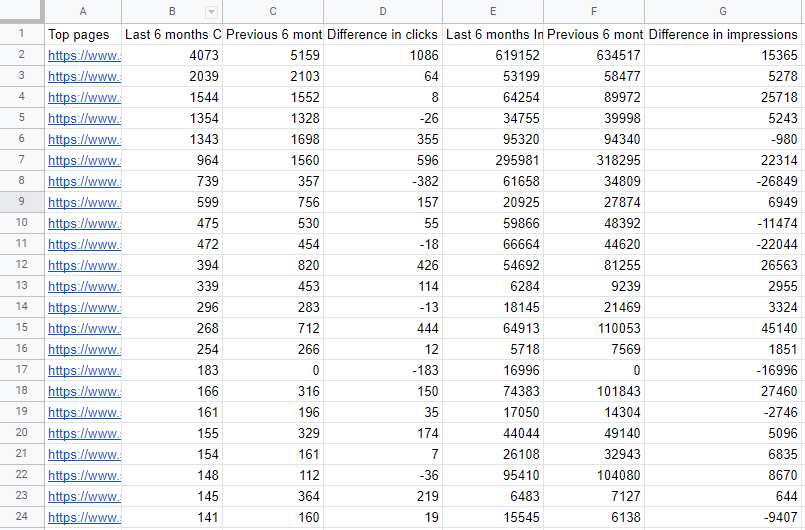 Step 4: Find posts that have seen a drop in traffic
The next step is to identify:
Which pieces of content have seen a significant drop-off in clicks over your selected period.
Which pieces of content have historically driven high-quality traffic to the site and added sales/conversions but have started to drop.
These will be the posts that you will want to focus on first.
To do this:
Add filters to your spreadsheet
Sort from A – Z
You can now see which pages have seen the most significant drop-off in traffic.
If you want to add an extra layer to this, you can also analyse these posts within Google Analytics to view how many conversions they have driven over time. You can then prioritise the posts that have given the most value.
Step 5: Finding opportunities using impressions
Clicks aren't the only metric that can indicate whether a post should be updated. If you have a post that is receiving high impressions but low clicks, this could indicate the post needs to be changed.
If you can identify the queries that the post is receiving the impressions for, then there could be a potential to refocus this content to target these specific terms.
Doing this should improve its average position and hopefully lead to increased traffic.
However, finding opportunities using impressions can be more complex than doing so with clicks. You may assume if your posts have seen a drop in impressions, they are candidates for being updated. But if they have seen an increase in clicks, this could indicate that Google understands your content better than it did before, and there is not necessarily a need to update the post.
Step 6: Identify pages that have gone stagnant.
Just because a page hasn't seen a drop in traffic or impressions doesn't mean that there is not an opportunity to update the content and potentially improve performance.
An easy way to identify pages that may have gone stagnant is to look for pages where clicks have steadily decreased over a long period.
Posts that sit within this threshold often have a significant opportunity to grow and improve and with some added value. By making changes to the post, you could potentially bring in quality traffic and added value to your site.
Step 7: Create a list of posts to update
Now that you have figured out which posts you should update, you should have a combination of:
Pages that have seen a drop in traffic.
Posts that have gone stagnant.
Top performing pages.
Posts that have high impressions but low clicks.
Posts close to page 1.
Pages that had high expectations but fell short.
The next step is to create a document that houses all of these posts, such as a spreadsheet or word document. From there, you can list why it should be updated, i.e. drop in traffic or top-performing content.
12 ways that you can update your old blog content to improve SEO performance
Now that you've identified the pages that you want to update, it's essential to break down the potential areas you can look to include within the post.
Improve your formatting
When updating your old content, you want to make sure that your formatting is optimised properly to maximise your chances of it performing well.
A few things to consider are:
Are your headings formatted correctly?
Is your content easy to scan?
Have you broken up the post with relevant graphics?
Improve your content by adding visuals
Another way to improve your old blog content is to include visual content in the post. It is important to note that you can't just look to add irrelevant imagery in the hope that you suddenly rank on page one. The visuals need to be relevant and add value to the reader.
Update your Page Title & Meta Description
Your page title and meta description are often the first things a user notices on the SERP. It's important to ensure they are descriptive, engaging and include a relevant search term.
When updating your title and description, it is essential to note that there is a limit to what can be shown on the SERP, and it is best practice to stay below this limit. As a rough rule of thumb, try to keep your titles to 70 characters and your descriptions to 160 characters. If you're worried about the length of your title and description, check them out using this free tool.
Check for broken links
A common occurrence within older blog content is to internally link to a number of pages that are no longer live on the site. These are known as broken links and take users to 404 error pages.
We know if a user clicks on an internal link within your post, they are looking for more information about that topic. If that link is broken, it instantly diminishes the user's experience and overall confidence in the post as a trustworthy resource. In essence, is it worth their time if you can't be bothered to update your content?
Google may also penalize a blog post that links to a large amount of 404 pages as it will know that it is no longer the best experience for the user.
If there is an example where you no longer offer the product featured within your post, give the reader an alternative and update the content accordingly. This will be a much better experience overall.
Improve readability and remove typos and mistakes
When looking at old blog content on your site, there is a strong chance that you may not have published it. You may not even know who originally produced it in the first place. Unfortunately, people make mistakes, and we can always try to mitigate those with proofreading and third-party tools such as Grammarly and Hemingway.
Readability is hugely important for your user experience and can have a significant impact on areas such as bounce rate and time on page. If your content is full of mistakes and typos, users aren't likely to trust you as an authority within your niche.
Ensure you incorporate relevant calls to action (CTA)
It's one thing to have content that drives traffic to your site; it's another when that content can help drive conversions and boost revenue for your business. It's important to leverage your valuable content for conversions where possible.
Include relevant calls to action to your primary business goals, whether or not that be conversions or product sales. Be sure to include links that allow users to sign up or link to relevant products where possible. This will help to boost leads and the conversion rate of your content.
Answer 'People also ask' questions.
Another way that you can improve your content is to FAQS around the topic. A great (FREE) way to identify these questions is to enter your targeted query into Google and take note of the 'People also ask' results.
If there is an opportunity to answer these related questions within your content naturally, then you should. By doing this, you'll increase the depth of your post and add extra value for the user.
Ensure your content matches search intent
An important focus when updating old blog content is to ensure that you are targeting searches with the right intent.
Search intent can continually change over time. It might have been true that previously users were looking for informational content, but that may not be true now.
Put yourself in a user's shoes and ask yourself, 'Does this piece fully answer the questions I'm asking?'.
If this isn't the case, ask yourself what else you need to do.
It is also important to check the SERPs and see what is ranking on page 1 of your targeted terms. The results you see on page one should indicate the intent behind the search and, more importantly, what format will have the best chance of ranking.
So when you go to review the SERPs, make sure you're checking whether:
Where listicles are ranking or not? And if they are long or short lists?
Whether it's a post comparing things?
Whether it's mainly Youtube posts rankings?
Is it some kind of tool or interactive piece of content?
Are they reviews rankings?
Are they traditional landing pages?
Or is it some other format that's performing?
Improve internal linking between relevant blog posts
It's so easy to forget to link between posts. I'd go as far as to say it's usually the number one mistake people make within their content strategy.
And it's a stupid one to make as well. Because links not only help content get discovered, but they also pass page rank around, which gives your post a better chance of ranking.
To improve internal linking, look for posts about the same topic, rank for a similar keyword or contain the target term of the post you're trying to update within the copy.
Optimize and image or video content
Imagery and video content are great ways to provide value and depth to your blog posts. But when adding them to your posts, it is crucial to do so in the right way and make sure that they are optimized according to SEO best practices.
For images, ensure they are compressed and not too large in file size. Nothing is worse than having listicle-style blog posts with large images that take forever to load. Optimizing the alt text on your images and following the correct naming conventions is also important. Your alt text should be descriptive and detail what the image is and its purpose. This is important for people with visual impairments and when the image doesn't show due to technical issues.
For video content, you need to optimize the content correctly by hosting it on a platform such as YouTube, as this allows you to embed the content with a snippet rather than hosting a large video file on your site.
Check content is mobile compatible.
We all know that viewing content on mobile is now the most popular way to consume content. A study from Broadbandsearch.net found that as of January 2022, mobile makes up around 55% of traffic. So if you don't use content that works on mobile, you're literally annoying 55% of the people on the internet.
Google even has a Mobile-first indexing policy that was introduced in late 2020. So it's not even an optionally thing you can do anymore if you want to get traffic.
It may be a case that your newer content is mobile-friendly. But that may not be true of your older content,
When you're looking to optimize your old content, it is a perfect time to audit whether or not your content is mobile-friendly to ensure the user experience doesn't suffer.
Ensure you are targeting the right keywords
Often, old content targets keywords based on data that is now out of date. Search trends change, search volume changes, and competition definitely changes over time.
So you can't assume the keywords you targeted 2 years ago are the best ones you could be targeting today.
When reviewing your old content, check the terms it is ranking for and how competitive that term is. If you initially targeted a term with a lot of potential that has since become overly saturated with more authoritative competition, you may want to pivot your angle.
Likewise, double-check the trends around the topic and the search volume. It may be a case that language has changed, and there's something better to go after.
Summary
So here's our complete guide to updating old blog content for SEO. You should have a pretty solid understanding of:
Why it's important to update blog content
The different types of content to update
And some actionable tips on how to go about it.
If you're interested in reading more tips around content strategy, then we've got some great posts on:
Enjoy!