With Google's introduction of Performance Max, a highly automated campaign type, it's difficult to understand which levers are available for advertisers to pull on.
Now that shopping campaigns are a thing of the past, the old standard ways in which you would optimise your shopping activity have gone.
What we mean by this is that you are no longer able to control where your ads show and who they appear in front of.
But that doesn't mean there aren't tools you can leverage to help improve the performance of your ads and ensure they are appearing in front of the right people.
One of these levers is "Audience Signals".
In this post, we're going to break down some of the best practices you can use when setting up Audience Signals in your Performance Max campaigns.
What Are Performance Max Audience Signals?

Google's Audience Signals are indicators for a performance campaign to put your ads in front of the right traffic. This means that using them is imperative in generating a good level of performance.
Google suggests that including Audience Signals early in the campaign lifecycle can not only be useful to help jumpstart performance but also continue to inform their algorithms throughout the campaign's lifecycle.
With this in mind, it's a good idea to keep first-party data (Customer Match lists) updated on a regular basis to keep the information as accurate as possible.
What Types of Audience Signals Are Available?
Audience Signals can consist of a mixture of data combing from your own and Google's sources. It's also possible to add in-market segments, life events and detailed demographics.
Selecting multiple audience types gives you the best possible chance to push your campaign towards users that are at the right stage of the consumer journey for your product or service.
Below is a list of signals that you can leverage:
Audience Signals Based on How Users Have Interacted With Your Business
You can leverage your own first-party data, as well as marketing data that you or your client already have access to.
This can be done by adding the following data sources:
Website visitor lists

App user lists

Customer lists (for example, email subscribers)

Video viewer lists
To add this type of data, you need to add a new segment and upload the data. After that, you can apply this new segment to your audience signals.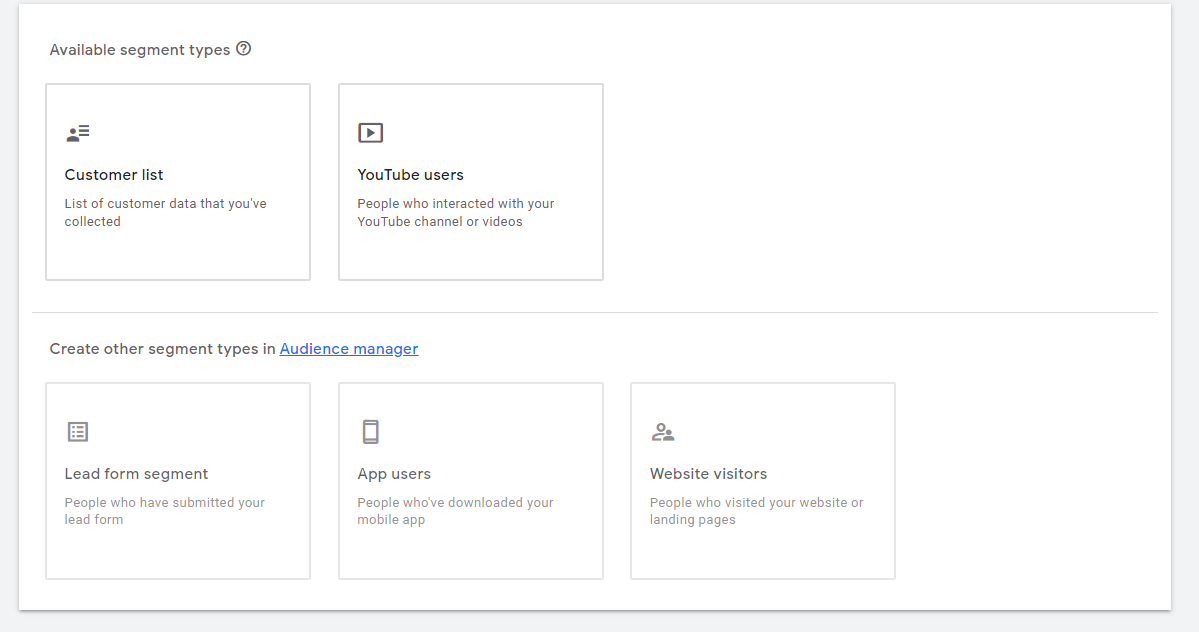 Here is an example of creating a segment from a customer match list (For example a list of newsletter subscribers). However, for YouTube users' data, this can be downloaded directly into Google Ads from your channel.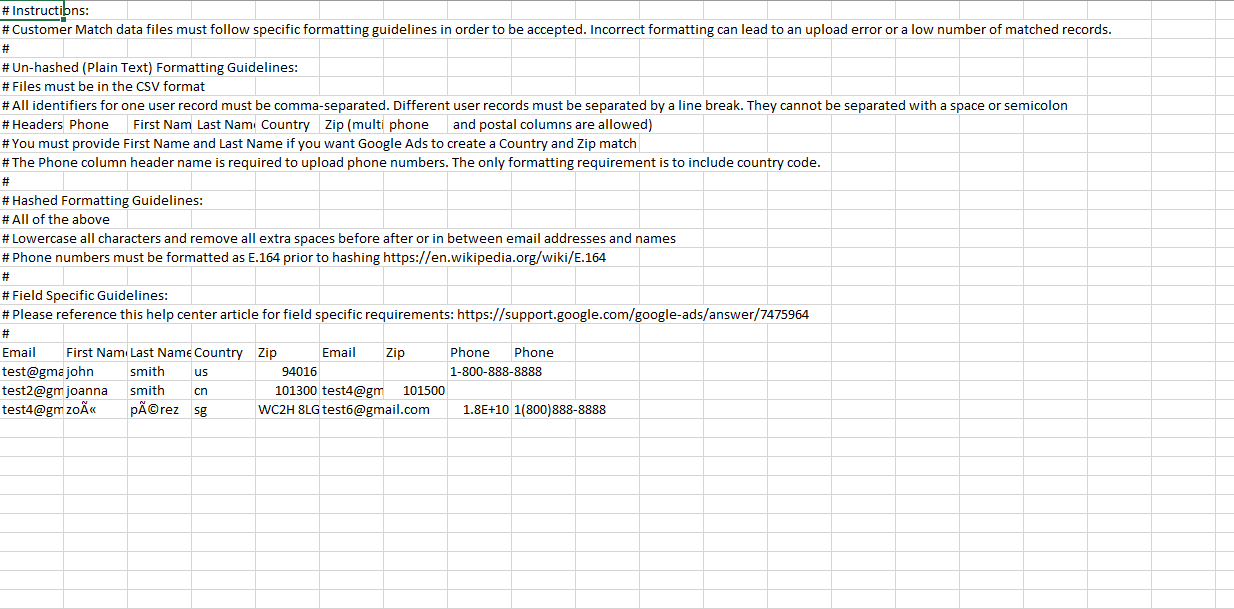 After filling this out with your data, reupload it into Google's audience segments tab and name data relevant to where it came from and then when it was uploaded.
This is a vital step for you to easily manage your customer match list in the future as Google does not always provide information on how old the data is and when it was last uploaded.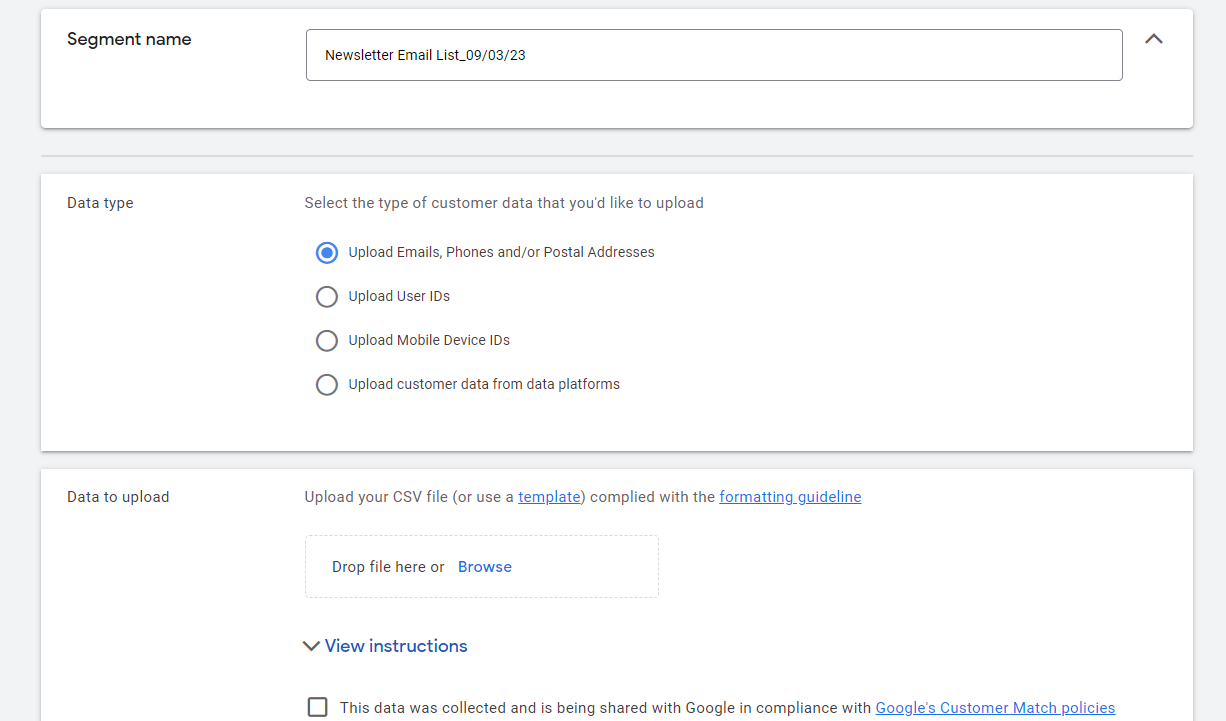 It's important that you keep refreshing this data as this will be your warmest audience on Performance Max since these users have already interacted and engaged with your business.
Custom Audience Segments
Custom Audience Segments is another tool within performance max that allows you to create indicators based on third-party data (website and Google Search Data)
This means you're able to target users who have particular interests directly from how they interact with either Google or a certain Website page. Here are the following ways to optimise your custom segments:
1. Add keywords or phrases that best represent your targeted audience, for example, if you are advertising used cars, you will want to add keywords 'second-hand cars for sale'.

2. You may also choose to use URLs from websites that are similar to your own, in order to target users that have visited those websites. It's a good idea to target competitor URLs and other similar websites.

3. Lastly, you also have the ability to target apps by simply entering the names of apps that your ideal customers are most likely to use:

Demographics
Demographic signals give you the ability to narrow down your targeting based on specific age groups, genders or other qualities your audience shares.
It's generally recommended to limit the use of demographic targeting, as it can narrow down your potential audience significantly.
These can be found in the usual audience signals setup. To utilise this and make your campaign streamlined to your audience, it is necessary to analyse how old your core converters are, what gender they are, and how old they are.
These are all things you will be able to plug into your audience signals to generate higher-quality performance. These are important as you are able to exclude certain age groups or genders who aren't the right fit for your client's product.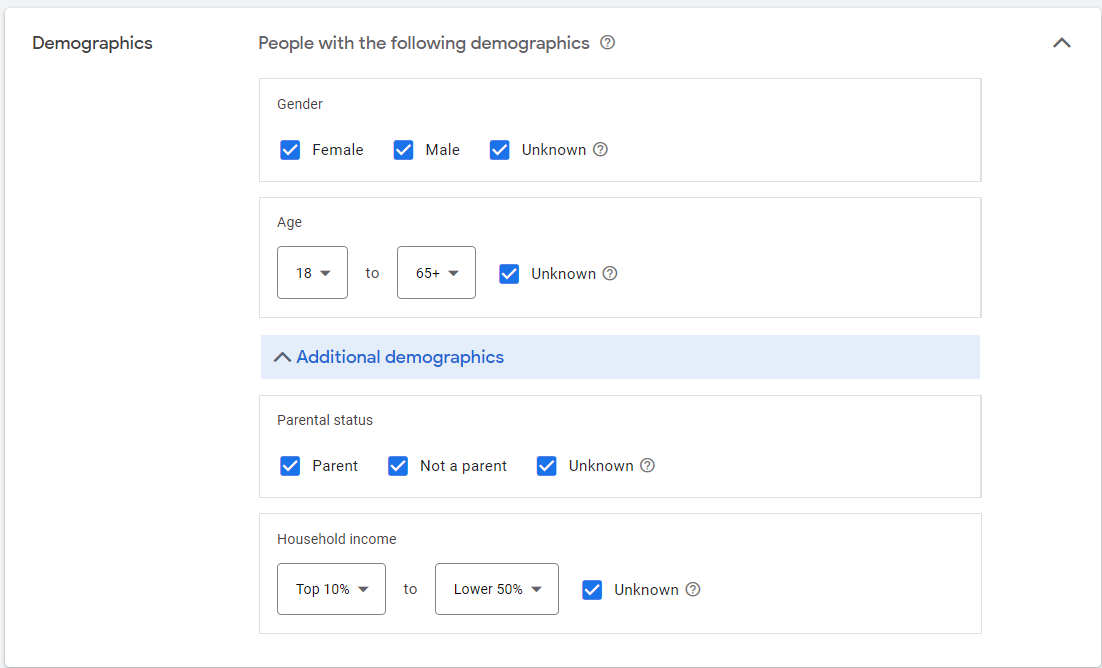 To build this out even more you can even use detailed demographics which will allow you to narrow down your target audience even further.
This is found in the 'Interests and detailed demographics' section, however, you can use it to drill down who your audience is even further.

Additional Audience Segments
Additional audience segments can be classed as signals based on your audiences' interests, habits and what they're actively searching for on Google.
These are of particular importance as they allow you to target users based on their interests and habits and refine your audience which could potentially be quite broad.
An example of this would be "bridesmaid dresses" being included as a targeted search term, but you then also target "life event: getting married soon" as an additional audience signal to help refine this particular audience further.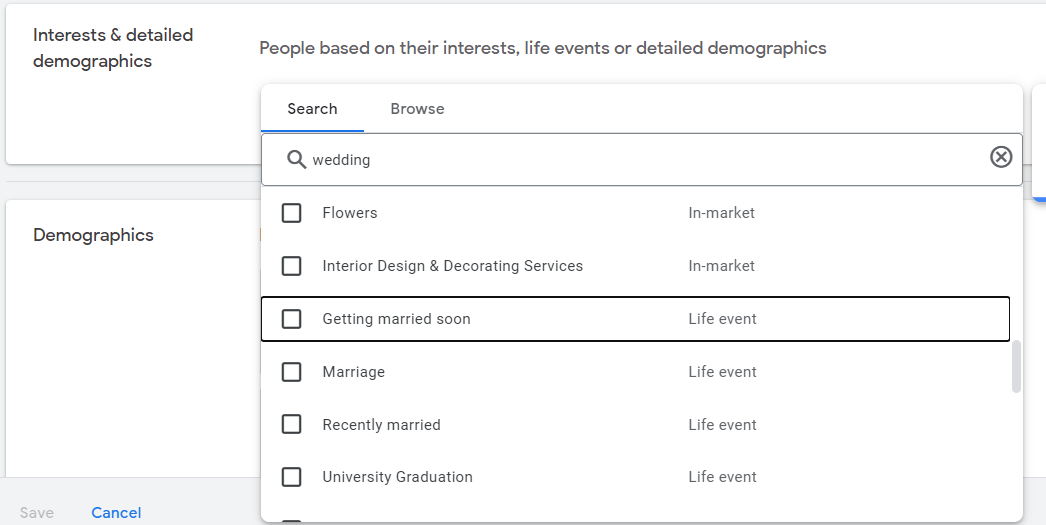 You can add additional audience segments from these areas:
Detailed demographics:

target users based on long-term life facts such as parental or marital status
Life events:

reach users who are going through major life milestones such as marriage, or moving house
Affinity:

find users that are passionate about or show habits and interests in particular subjects
In-market:

find high-intent users that are in the market to buy or have recently purchased in particular areas
There are so many different possible combinations of Audience Signals that it can be difficult to identify which will work best for your new Performance Max campaign.
Google recommends utilising at least one custom audience segment, alongside one audience that utilises your own first-party data.
Using Audience Signals To Structure Your Campaigns
You can use Audience Signals to structure the assets in your campaigns in a more organised and strategic way. This is straightforward and foolproof.
This is also handy when it comes to reporting as you'll be able to analyse how you've performed across different aspects of your own structure helping you identify areas to work on.
Overall, audience signals and creative assets (including products if you're running e-commerce campaigns) will help to inform your campaign structure.
If your entire audience fits into the same audience type, then it's advisable to create a single campaign, with a single asset group.
If your product groups or creatives have differing audiences, then you can split these into different asset groups with different audience signals applied.
For example, an advertiser targeting female users with dresses and other clothing items for women will be looking to target a different audience for their men's products
So what they would do is split their assets into two separate asset groups, each with relevant audience signals attached.
Using Audience Signals To Enhance Your Long Term Strategy
So we know that using Audience Signals on a Performance Max campaign can help to 'kickstart' the learning of the new campaign, but what about in the long term?
According to Google, Audience Signals will continue to play a role in the campaign targeting throughout its entire lifecycle, so they will never stop being beneficial to the learning of the campaign.
If you're seeing poor performance on a particular Performance Max campaign or Asset Group, try adding new audience signals, whether it be your own data that may not have previously been available, or needs to be updated (for example email subscribers)
You could also try adding new in-market audiences or detailed demographics. Adding additional signals will help to give your campaign a boost towards finding the right people at the right time.
In Summary
That concludes our guide to Audience Signals for Google's Performance Max campaigns.
Now that you understand the key components of Audience Signals, you'll be able to successfully apply them to your new campaigns in line with best practices.
Remember, Audience Signals are just a guide for your campaign's targeting, adding additional audiences will not limit the reach of your ads.
Like with all Google Ads campaigns, the more data you can feed into them, the better your performance will be – so it's a good idea to add a wide mix of audience segments to your Audience Signals in order to see the bets possible results.