I think by now we all know how huge YouTube is. With millions of daily users consuming its content it has become a part of our everyday lives.
So it should come as no surprise that YouTube has a plethora of advertising opportunities for you to take advantage of.
But just how do you effectively run ads on YouTube? What are some of the best practices for video ads on YouTube? And what do I need to know?
In the post below we'll walk through all of those questions and give you a thorough guide to advertising on YouTube.
The first port of call is to identify your objectives and goals. Without clear goals, you cannot effectively optimise your video campaigns.
Properly understanding and identifying your objectives will allow you to tailor your creative and campaign structure to the type of users and reactions you want from them.
There are 3 main types of goals within YouTube: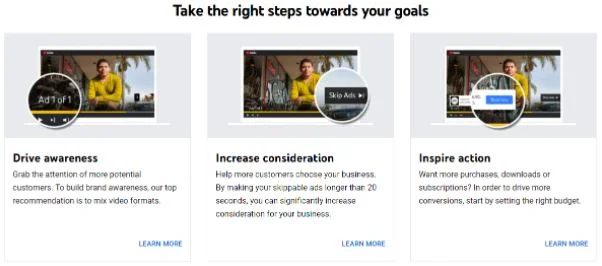 Driving Awareness – This is all about being seen. Making sure they know who you are.
Increasing Consideration – Having your product front of mind when they are thinking about purchasing something.
Inspiring Action – Make them want to purchase the product.
These 3 objectives each have their own individual best practices that you can follow to ensure your creative, campaigns and ads are not only as optimised as possible for the YouTube platform but for actually delivering on your specific campaign objectives.
Best Practices For Brand Awareness Video Campaigns
The first objective we'll cover is awareness.
YouTube is still typically used by most brands as an awareness platform. And although it's added lots of things to help it become geared towards conversions, at its heart, it is still an awareness platform. And one of the best for it too.
With that in mind, below is some of the creative best practices to follow to make sure you nail your YouTube ad campaigns.
These are the 4 main considerations you need to take into account when creating and optimising a YouTube campaign for brand awareness.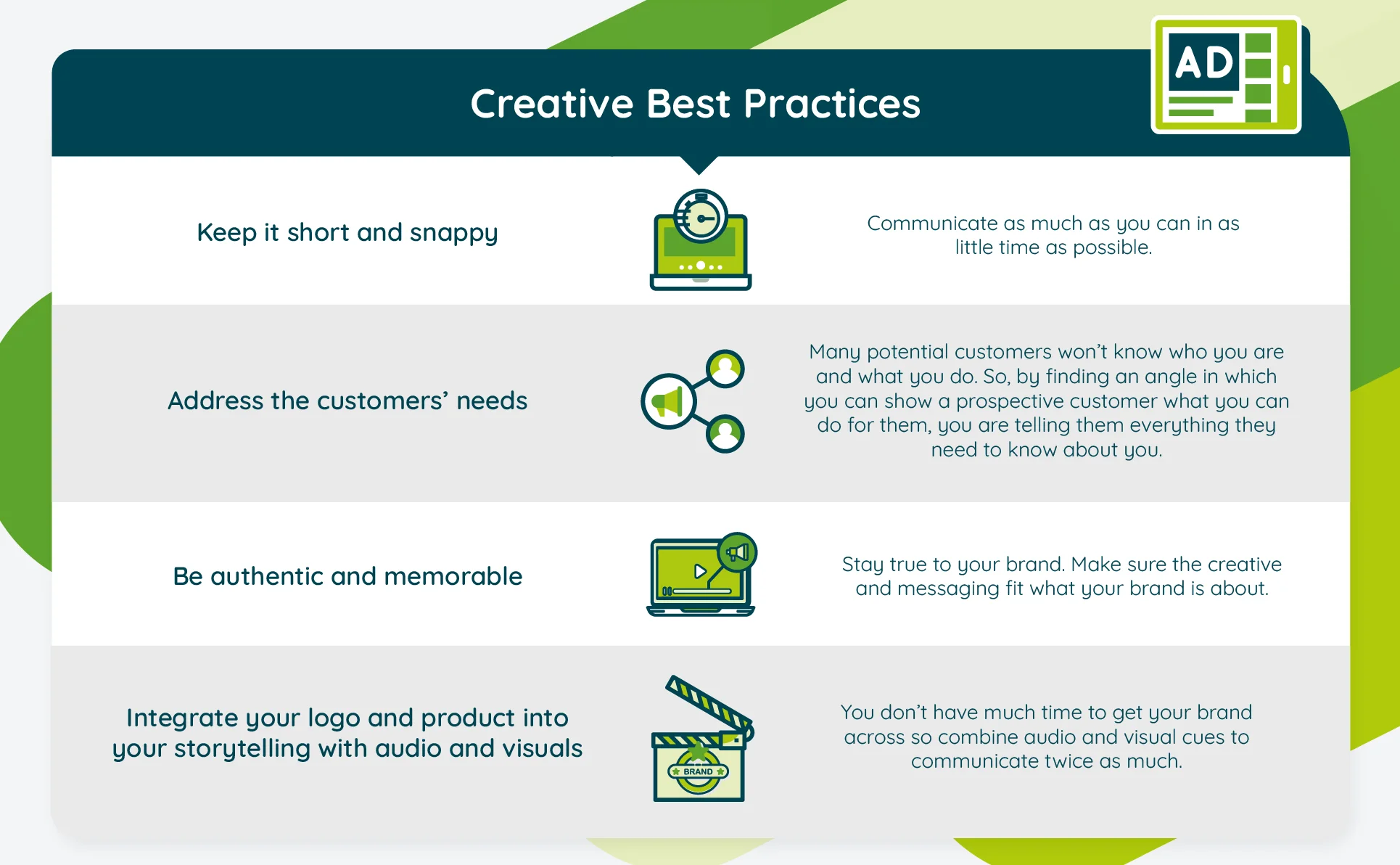 Best Ad Formats For Brand Awareness Campaigns
Getting the creative right is only half the battle. You also need to choose your ad formats wisely.
There are some formats that just don't work for generating brand awareness. On the flip side, there are some that definitely do. Below are 4 ads formats we'd recommend you to explore:
Four Ad Formats For Brand Awareness
Skippable in-stream ads
Reach as many customers as possible with your budget with skippable ads that run before, during or after a video plays. These ads are skippable after 5 seconds so you need to make those first 5 seconds count. You also have to make sure that they are short and sweet with the ideal duration being between 15-30 seconds.
Bumper ads
These quick, non-skippable ads work especially well for highlighting short, memorable messages you want to convey. What you have to remember with this ad format is that it is really short. You've got 6 seconds or less to get everything you want across to them.
Non-skippable in-stream ads
If you want to make sure that potential customers see the full story then these ads are the perfect option. Non-skippable in-stream ads play before, during and after videos for 15 to 20 seconds depending on the regional standard.
Masthead ads
If you want to reach a lot of potential customers in a short amount of time then Masthead ads are a great way to go. Masthead ads let you feature videos on people's home feed across all devices. This can be any format but YouTube recommends non-skippable, slightly longer ads of 15 or 20 seconds depending on regional standards.
Best Practices For Consideration Video Campaigns
A good place to start with consideration campaigns is defining what exactly a video consideration campaign is. Well, it's similar to brand awareness but a step on. Brand awareness solely focuses on letting people know you are in the space but consideration focuses on levelling this up and using that knowledge to form consideration about your brand.
Consideration campaigns are a great way to drive users to interact with your brand further down the line through targeted visual ads. They are a great way to bring a new product or service to market when you have established yourself and allow users to understand your brand with existing campaigns.
If you want to make your considerations campaigns work, it's important to get the creative right. Below are 4 key considerations for your creative.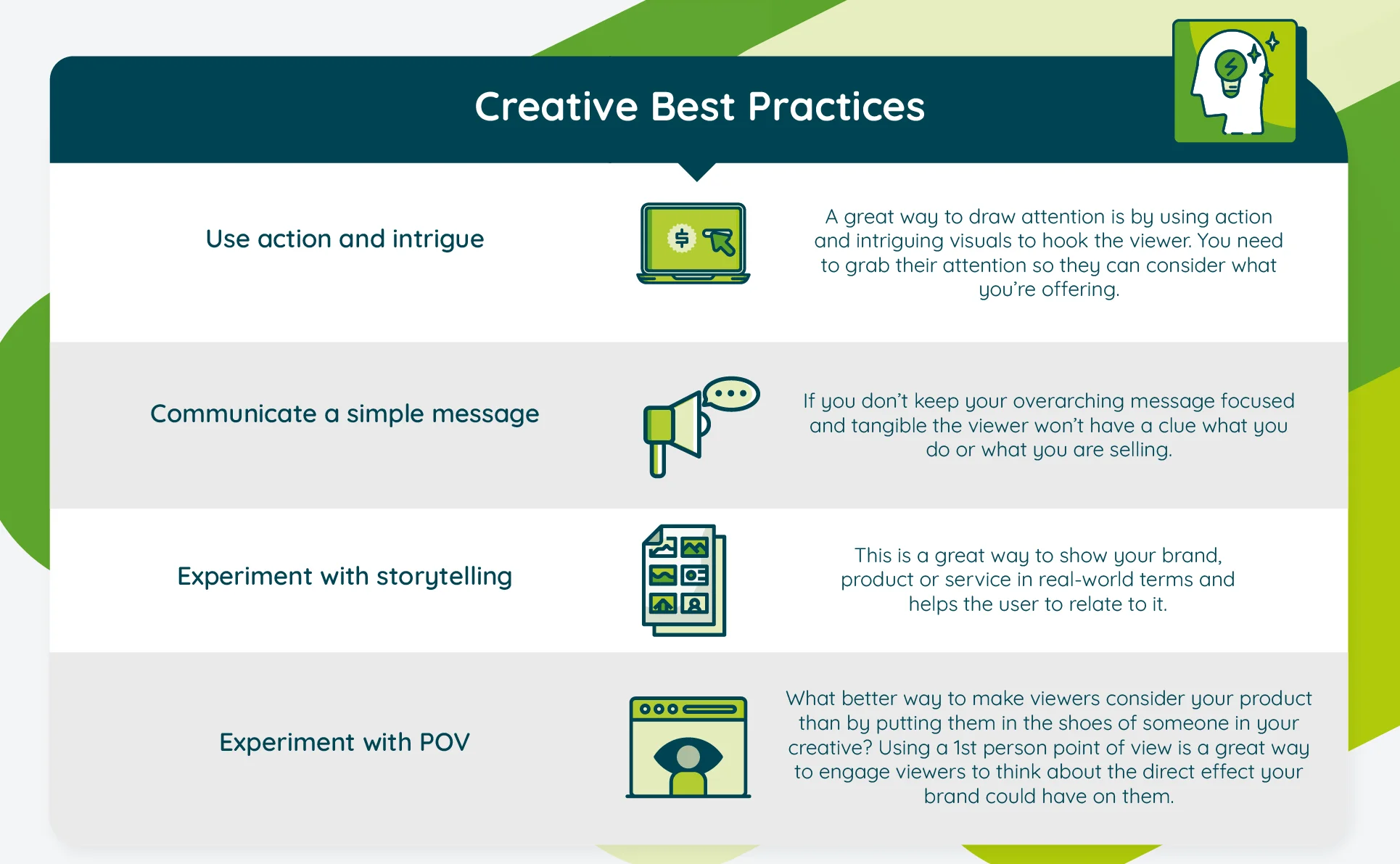 Following these best practices will allow users to get a good sense of trust in your brand and start to think about how your offering can benefit them now or in the future. If they come to need a service or product you offer there the first point of call will be yourself.
Best ad formats for consideration campaigns
By far and away the best ad format to use for a consideration campaign is Skippable In-stream Ads. They allow you to get your business in front of potential customers with ads that run before, during or after videos on YouTube as well as partner sites and apps. They're also long enough that you can get a bit more into them from a messaging point of view.
Best Practices For Video For Action Campaigns
The latest campaign type in YouTube's ever-growing arsenal is arguably its most exciting and powerful yet.
Video for action campaigns gives advertisers the power to create highly visual ads that drive users to convert directly on the YouTube platform. These ads are a great way to scale your eCommerce proposition and sell products to highly targeted audiences across YouTube.
These ads work well for eCommerce stores as well as software brands and even some lead gen businesses that want users to complete an action.
These campaigns are new and always evolving when it comes to optimisation on Google Ads but driving action through video is a proven technique.
When it comes to invoking action through video there are numerous visual best practices you can follow. Below we've listed what we think are the most important ones.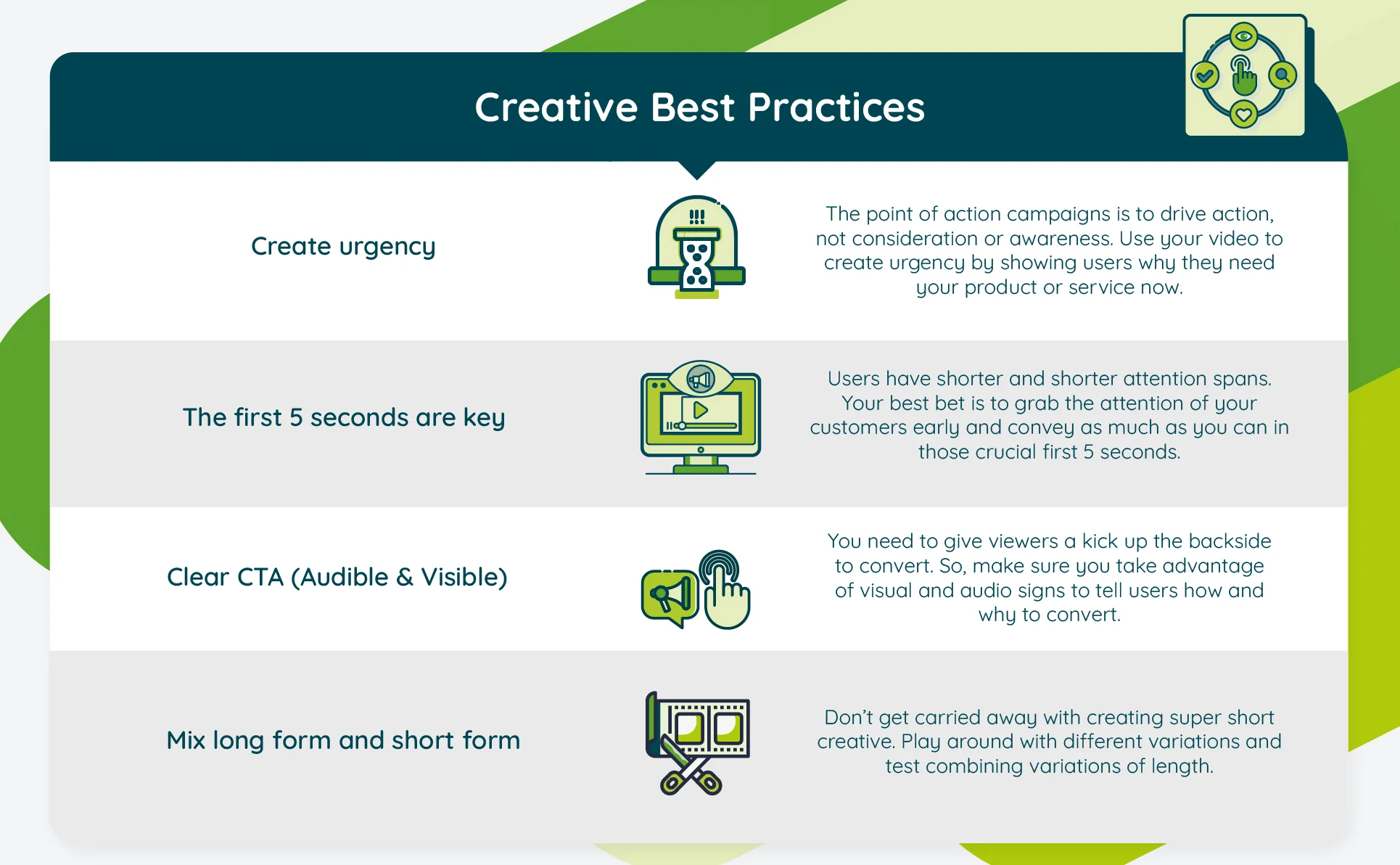 Getting the most out of your action campaigns
Google has gone to town when it comes to optimising your action campaigns. These ads offer the most customisation so it's important to follow some best practices to make sure you get it right. Below are some of the things we do when running this type of campaign:
Keep your call to action punchy with concise messaging in your copy.
A/B test different variations of copy to identify what works best for specific audiences and objectives.
Identify what CTA you want to optimise towards and select the options that best match your goals when creating your campaign.
For best results, skippable ads between 15-30 seconds in length are recommended.
Pair your video for action campaigns with GMC Extensions to show your product catalogue alongside your video creative. This allows users to shop your products directly after seeing your ad.
So to conclude, there is a lot to digest. YouTube is a platform that often gets overlooked solely as a brand awareness tool. But the reality is, it offers many possibilities to advertisers and if you're serious about PPC, it should be a part of your long term strategy for growth.
But in order to make that strategy work, you need to define your objectives and then know what works best for each of them.