Broadplace Advertising has won two prestigious awards at the annual Wirehive100 Awards; picking up the "Best Use of Search" awards for their "Omni-Channel Partnership". Plus Akash Raval won the Key Account Handler of the Year award. His rapid rise through the ranks from apprentice to Key Account Handler is a shining example of how investment in people can pay dividends.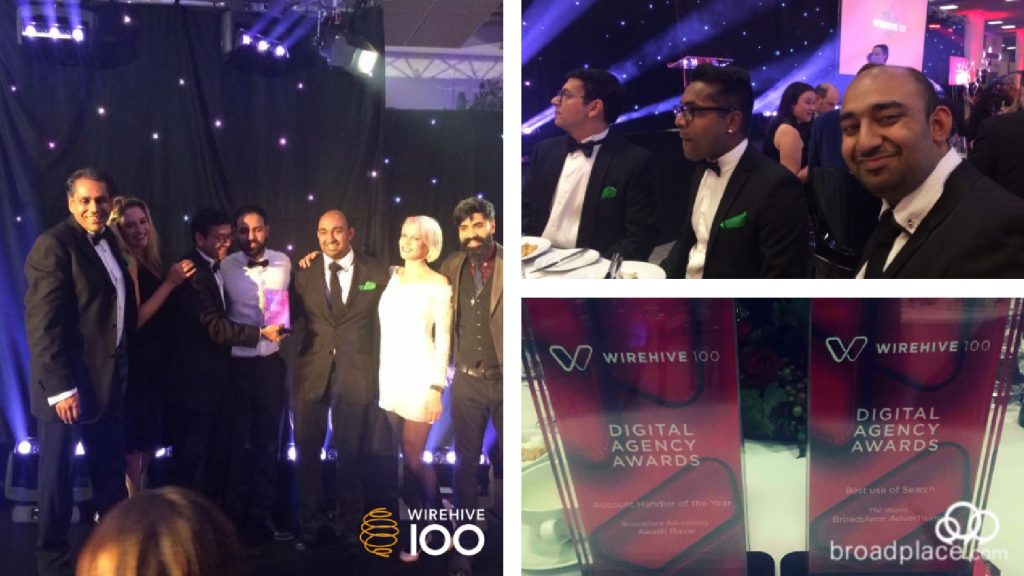 The evening was a glittering black tie dinner held at Mercedes-Benz World in Surrey. The host for the evening was comedian Paul Choudray, who pulled no punches – the Broadplace team, who, being sat on the VIP tables front and centre of the stage, fell victim to a few hilarious jokes!
Akash Raval – Account Handler of the Year Award
Akash Raval started working at Broadplace in 2013 as an Apprentice. He left college and came straight to work. He was quickly promoted to a permanent position as a Digital Account Manager; and then to Key Account Handler for Broadplace.
Ajay Syal, Broadplace MD, notes that "Akash is the perfect example of how great talent can never be held back! Akash joined us completely new to online with no experience whatsoever as an apprentice. It was evident very early on that he had a deep affinity with digital marketing and very quickly completed his apprenticeship and joined broadplace as a fully qualified Google AM. Since then there has been no looking back for Akash. Akash has worked his way up through the teams and now manages our largest Key accounts where he has had a massive impact helping ROI increase for one of our biggest advertisers by 14%. He more than deserves this accolade."
Our #Wirehive100 2016 ACCOUNT HANDLER OTY is… @Akash_1994 from @broadplace!

— Wirehive 100 (@Wirehive100) October 13, 2016

Judges commented:
"Strong performance and commitment to growth. Dedication to going the extra mile and tangible results for clients."
"This is a great testament to 'hard work wins out' and the benefits are tangible to the business. The trust the business has in his skills again is represented in his rise within the business."
---
Broadplace Advertising – Best Use Of Search
The Broadplace Advertising team also won the Best Use of Search award. This award was won through a successful holistic search campaign that includes all channels of search such as PPC, SEO, Content and also Social Media Marketing. Judges in this category were looking for a cutting edge and comprehensive campaign that was expertly conceived, brilliantly executed and ultimately delivered tangible results.
Taking the crown @Broadplace for @TheWorksStores Omni-Channel Partnership#Wirehive100 BEST USE OF SEARCH
— Wirehive 100 (@Wirehive100) October 13, 2016
Judges said of the campaign:
"Nice approach to using the right bits of the marketing toolkit to attract the right customer relationship level."
"Very positive impact on the site, revenue and conversions."