Broadplace delighted with two major wins at prestigious awards
Broadplace managed a double whammy by winning both the Best Performance Marketing Campaign award and also the Rising Star award at the Wirehive1oo  Digital Marketing Awards held in Southampton on Thursday night.
Best Performance Marketing Campaign of the Year 2018
Our work with Mercedes Benz Retail Group has already received commendations this year at the AM (Automotive Magazine) Awards. Broadplace worked with Mercedes-Benz Retail Group to construct a digital strategy centered on a '360 customer view'- focusing on supporting and influencing customers throughout key moments during the pre-purchase digital research phase. As their appointed digital agency, Broadplace were crucial in the planning, creation and execution stages of their online advertising campaigns. As leaders and authorities in the digital marketing space, Broadplace also ensured strong collaboration from other stakeholders such as Google, Facebook & Bing.
To read more detail about the work we've done with Mercedes Benz Retail Group, click here to read the case study.
And the PERFORMANCE MARKETING CAMPAIGN winner is @broadplace

— Wirehive 100 (@Wirehive100) October 11, 2018
Judges said: "This was an excellent campaign with interesting innovations. Broadplace showed incredible insight in not only the micro moments but the triggers that bring consumers in-market."
"The overall results of the campaign were frankly astonishing, we had set very high targets and these were by far exceeded" – Liz Luesley, Marketing Manager, Mercedes Benz Retail Group
"We are really proud of our partnership with Mercedes Benz retail. To be able to collaborate with one of the worlds leading premium automotive brands is truly inspiring. Our campaigns have been unique and innovative whilst maintaining a performance focus so to win this award is testament to our unique approach."  – Ajay Syal, Managing Director Broadplace.
Rising Star of the Year 2018 – Amalee Gamache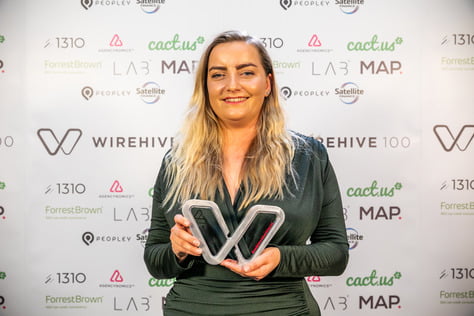 We had high hopes for Amalee's entry into Rising Star of the Year award. We could see she had star potential when we took her on. She soon proved herself worthy of the title, passing her exams quickly and successfully as well as becoming an instant hit with clients. Her natural ability and confidence saw her improving the agency relationship with Facebook, build client campaigns and organise a Google event at our offices.
The 2018 #Wirehive100 RISING STAR is Amalee Gamache @broadplace

— Wirehive 100 (@Wirehive100) October 11, 2018
Amalee's meteoric rise to fame began in 2014 when she won Apprentice of the Year. She then worked at a charity and then as a Digital Marketing Coordinator before joining Broadplace last year. She delivered incredible ROIs for her clients (including 9.5 on Facebook and 8.3 on AdWords for one client). She has maintained a 100% client retention rate, her paid search revenue topped £1million in her first 6 months and she sustained a growth rate at 3 times that of her peers.
Judges said: "Amalee is clearly a great asset to her team and has a bright future ahead of her."
"It's great to see someone progressing so quickly with excellent results."
"Amalee has been a true hidden gem. We always had high hopes for her but she has exceeded these by far. Not only has she achieved what we had hoped she would but she has achieved what we had not even thought about! Her approach and work ethic has added value in new ways and has truly helped the agency develop itself and grow to the next level. Amalee is very modest but she should take great pride in her achievements- I know that we certainly do!" Ajay Syal MD
Broadplace was also shortlisted for Team of the Year award.