We give the low-down on the best freely available Data Studio templates on the web.
But, what is a Data Studio Report? And why should you use one?
Firstly, it's free, which is handy if you are on a tight budget! Secondly, it's a really powerful tool from Google that allows you to connect to Google Ads, Google Analytics, Microsoft Ads, Facebook and much much more. It works as a customizable Reporting Dashboard, so you connect your data sources and explore the metrics that matter to you.
Then once you are happy, you can share it with all the key stakeholders to discuss insights and areas of improvement.
So where do you start?
Well, we've compiled a list of the best free Data Studio dashboards based on what you're looking for.
We've put them in the following categories:
Once you've found the one you like, simply copy the template, add a new data source and you're good to go.
Top 6 Free Reports by Category
Best Free Google Analytics Template
Find Your Free Google Analytics Data Studio Report, here.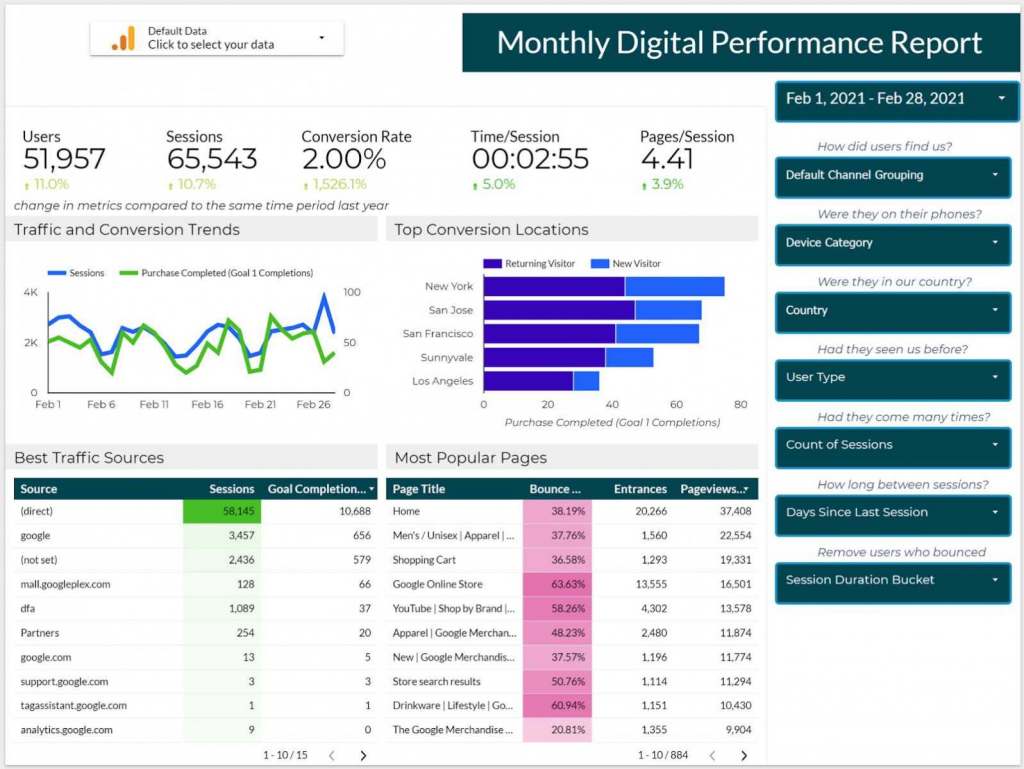 What we like the most
Uses most functionalities of GA
Can be used as a single reporting dashboard
Much easier to use than Google Analytics itself
Do you want a complete Google Analytics Data Studio with advanced filtering capabilities? Look no further!
It has everything you really need in a dashboard/report. The advanced filtering means you can quickly jump between different channels and get access to the data you want without having to familiarise yourself with the full Google Analytics interface.
It also has clear descriptive labels, so you don't have to have a glossary by your side to know what does what.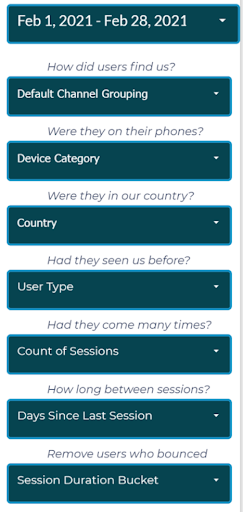 These easily accessible filters with labels are the highlight of this report and they point out the questions you regularly need to ask when thinking about your audience and your business.
Best Free Google Ads Report
Find Your Free Google Ads Data Studio Report, here.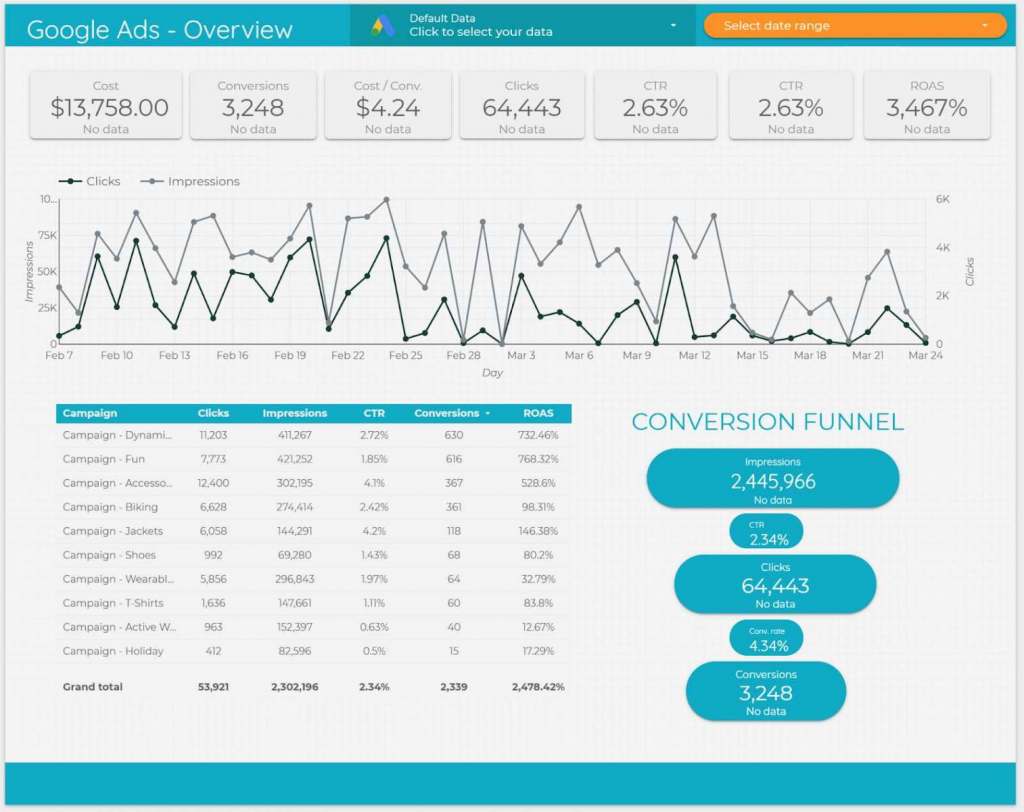 What we like the most
The layout makes it really clean and easy to read
It covers the most important KPIs within Google Ads
Can easily be tailored to Lead Generation accounts
Sometimes you just want a dashboard that is easy to use and gives you a nice top-level overview.
That's exactly what this report does.
It makes your ads data really easy to digest and helps you to easily spot any drop in performance early on.
The perfect example of this is the conversion funnel view within the report.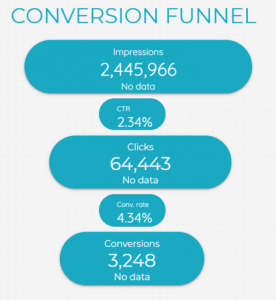 This provides you with an overall picture of how your ads are performing with a nice quick comparison at the end to show how you are tracking.
Best Free Ecommerce Template
Find Your Free Ecommerce Template, here.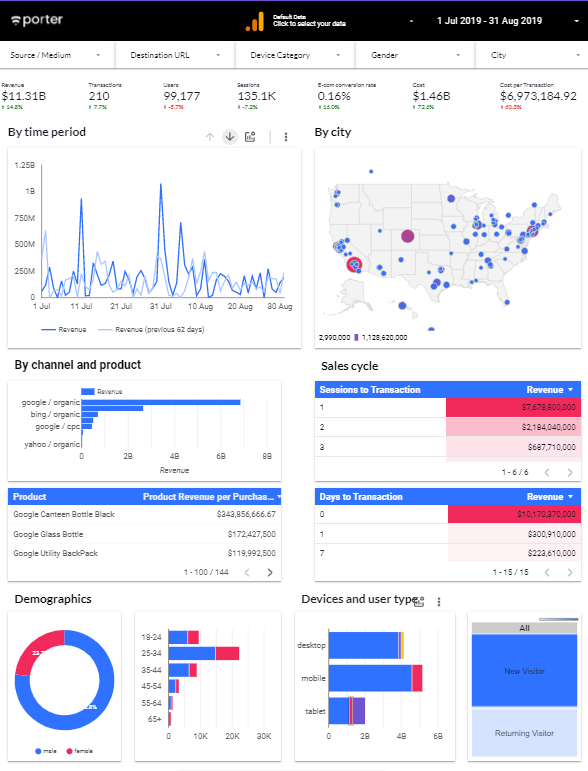 What we like the most
Find out where your sales have been generated with the Geo-location
Find your key e-commerce metrics quickly and easily using the scorecards
See how much revenue your products have generated over your chosen time frame
See which target audience is best for your site, with this clear overview of your demographics and who is most likely to purchase your products
For online shops, the Data Studio E-Commerce Dashboard can provide you with insight into key metrics such as your average order value, total sales, and your conversion rates all in one place.
Unlike a lot of other e-commerce dashboards, this template clearly highlights your best-performing products, highest revenue generators as well as which city is driving the most revenue.
Best Free Performance Report
Find Your Free Performance Report, here.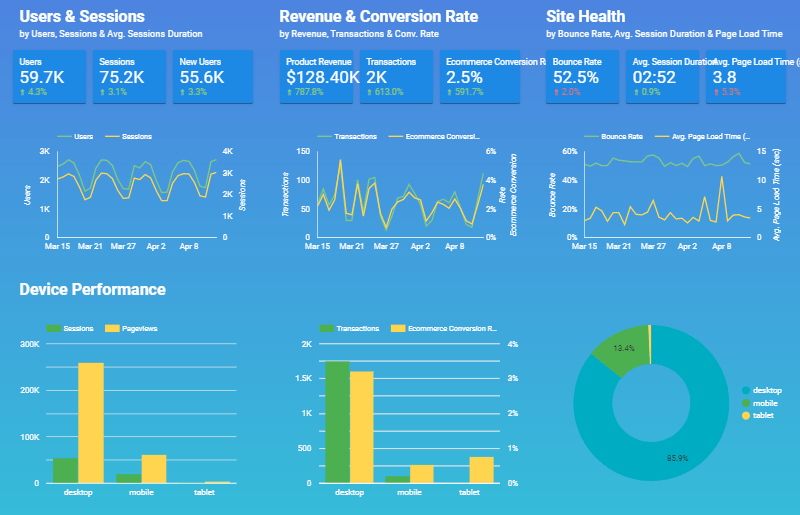 What we like the most
Device type is broken down into sessions & pageviews, Transactions & conversion rates, and percentages of users
Highlights how your website is impacting your sales or leads
Full control of location, demographic and channel overview
Performance is everything across digital marketing. If you want to find efficiencies or decipher what to scale, you need to know what's working and what's not.
This report does a great job of doing that, highlighting everything from device types to conversion rates so you can quickly identify where there are any issues on your site.
Free Facebook Insights Report
Find Your Free Facebook Report, here.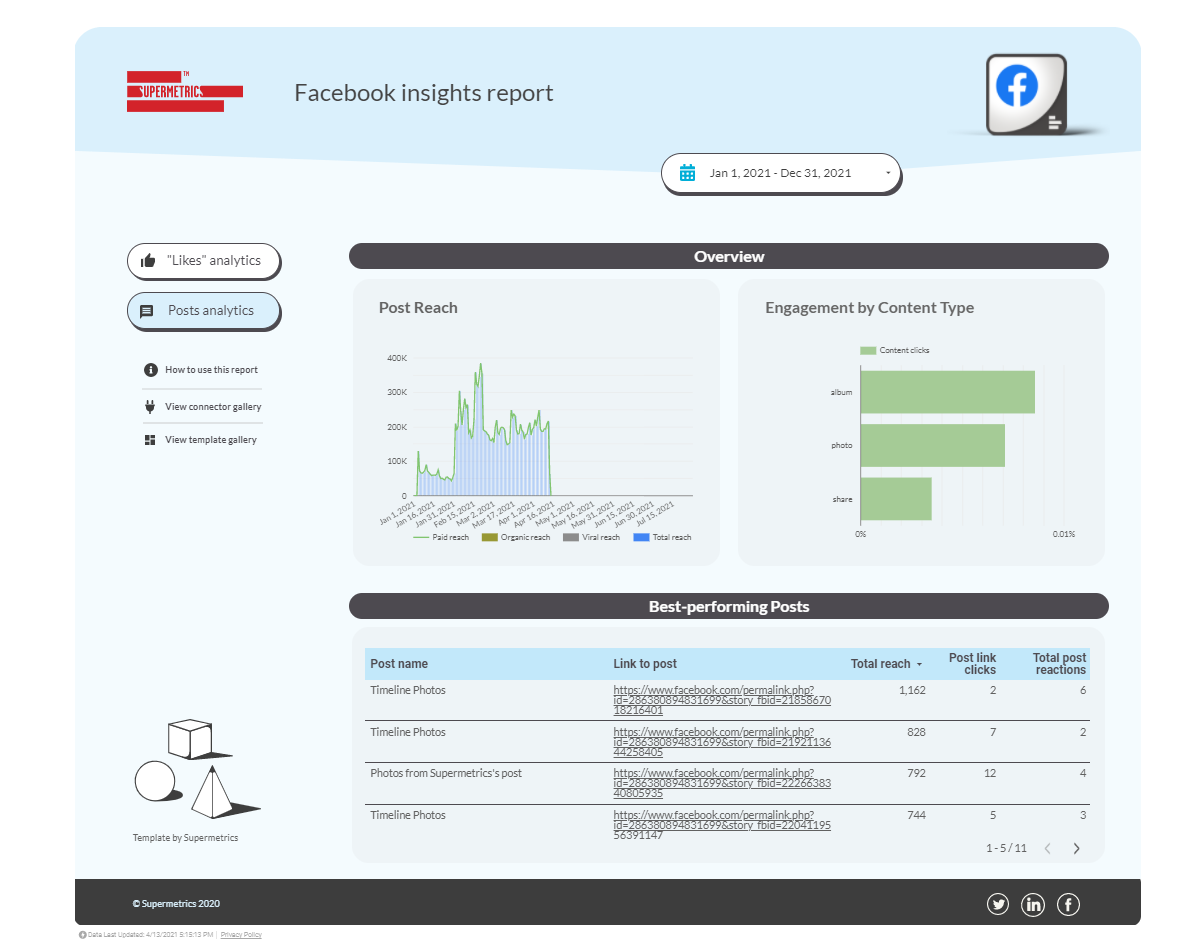 What we like the most
Clean interface, with simple clear overviews
Good use of demographic data to track all your page followers
Good view of where your business is generating Facebook engagement geographically
You can't do more of what works unless you know what that is. This report does exactly that.
With a simple, clear Facebook Insight Reports you can find out what is performing with just a few clicks.
It has really useful features like highlighting where your likes are coming from geographically, as well as a quick breakdown of your followers ages, so you can tailor your copy towards them.
Best Free YouTube Report
Find Your Free YouTube Report, here.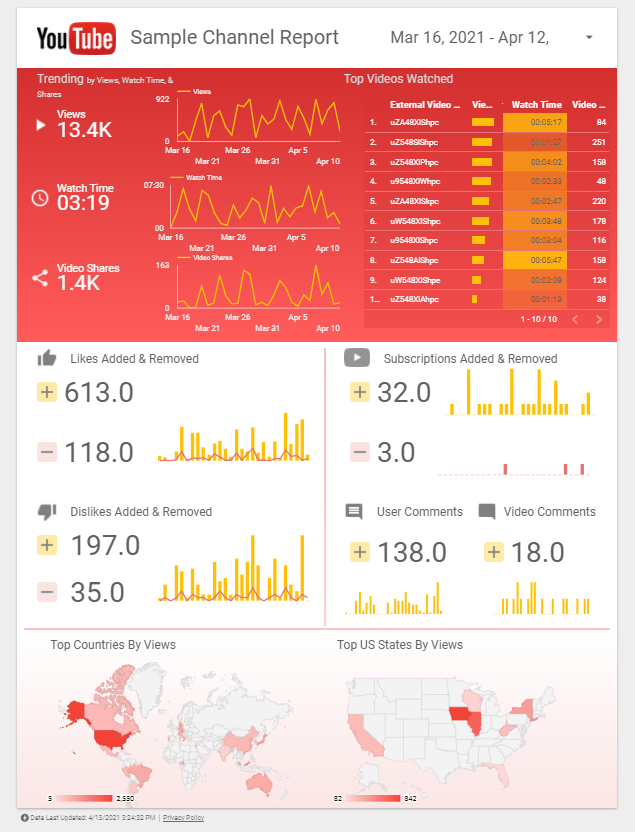 What we like the most
Easily highlights how engaged your users are
Quickly illustrates where you've had a surge in subscription
Can see your top-performing videos in a snapshot
How many video views do you get a month? Which days were best? How many people interacted with your video?
This report answers all of those questions and more with some really cool features.
It has a time series that will highlight your views, watch time and shares so that you can identify where there are peaks and troughs.
It also has a nice section in the middle of the report which gives a really quick overview of engagement across your channel. Allowing you to see if there's anything that you need to take a closer look at.
So, there are some of our favourite free data studio templates. There should be a template in there for each of your needs.
But if there isn't and you want some help setting up a comprehensive Reporting Suite for your digital activity, you can always contact us.
Posts You Might Like: