Paid social is extremely hard to measure for businesses. Measurement can be unreliable and inconsistent through ad platforms, platforms like Google Analytics don't track impressions, IOS updates and privacy regulations like GDPR and CCPA restrict the amount of user data that can be collected and shared. 
But that doesn't mean it's impossible. 
In this post, we're going to walk you through 5 ways to make measuring paid social impact a lot easier for your business.
Set clear Objectives & KPIs
The starting point for every campaign has to be your objectives and KPIs. If you don't have the right objectives and KPIs based on the activity, you can't accurately measure whether it is a success or not. 
The KPIs you choose will be different depending on the type of activity, conversion-focused or brand-led.
Here are some common marketing objectives and KPIs that businesses can use to measure the performance of their paid social campaigns:
| | |
| --- | --- |
| Objective / Goal | KPI's (Examples) |
| Brand Awareness | Impressions, Reach, CPM, Engagement, Brand Lift |
| Website Traffic | Clicks, CTR, CPC, Engaged sessions, Time on site |
| Increase Sales | Revenue, Return on Ad Spend (ROAS), Conversion Rate, CPA, |
| Generate Leads | Leads, Cost-Per-Lead (CPL), Conversion Rate, CVR |
| Improve Customer Retention & Loyalty | Lifetime Value (CLV), Repeat Purchases, Retention Rate |
If you're running ads on Facebook, take a look at our best practices for running Facebook brand awareness campaigns.
Use UTMs to get around changes to third party cookies
Third party cookie changes can make tracking a nightmare but there is a way to mitigate some of that – by using UTM parameters.
A UTM code is a simple code snippet that you can add to the end of a URL to track the performance of campaigns and content. 
You can track 5 standard variants of UTM parameters: source, medium, campaign, term, and content.
Because they are attached to the link they aren't stripped and you can easily use them to attribute traffic and revenue by source, medium, campaign and content.
Plugging the hole left by third party cookies, UTM parameters can provide extremely valuable insights into your traffic and uncover a wealth of behavioral data that can be mined to identify opportunities. 
Pro Tip: You can quickly build your UTM parameters using Google UTM tool builder – https://ga-dev-tools.google/campaign-url-builder/
Review performance with Google Analytics and Ad platform data
To get a comprehensive understanding of the performance for paid social activity it's essential to use both platform data and analytics. In most cases, results can look very different and provide different insights.
4 Key Reasons for reviewing platform data and analytics
Accuracy of Data:

Analytics data and platform data can sometimes provide different results due to differences in the way they track the data. Reviewing both sets of data can help ensure accuracy and provide a more complete picture of campaign performance.

Attribution Model:

Social platforms tend to use a multi-touch attribution model, which takes into account all the touchpoints before converting. Whereas Analytics uses a last-click attribution model which means it gives credit for a conversion to the last marketing touchpoint the user took before converting.

Click-through versus View-through Attribution:

Analytic uses click only attribution, whereas Social platforms use impression/view insights too, this attribution can provide valuable insight into campaign performance. This means Social platforms tend to see a lot more data and additional insight.

Optimisation & Insights:

Social Platforms will provide a deeper layer of insight, with ad set / ad performance which isn't available in Analytics. Along with this, platforms provide platform-specific metrics like engagement or views, which are useful to measure effectiveness of activity. This level of insight can help determine the next steps to take whether it's pause ads or creating different variations to updating and tweaking targeting or increasing budgets to scale the campaign.
Once you start to understand and become familiar with  the performance of the campaigns from both viewpoints, it will help guide you to making better decisions. The truth in the performance usually lies somewhere in the middle, with social platforms over attributing and Analytics under. 
Implement Server-side tracking
Marketers have traditionally relied on tracking with third party cookies. With the growing privacy concerns among consumers, increasing regulations and browser restrictions on collecting data, third party cookies are being phased out by some operating systems and platforms. The phasing out of third party cookies has resulted in this becoming essential for any business advertising.
What is server-side tracking?
Server-side conversion tracking allows ad platforms, like Meta and Google to connect directly to the servers that host a retailer or advertisers site. Similar to how a cookie or tracking pixel works today, the process sends the data directly to the ad platform bypassing the browser.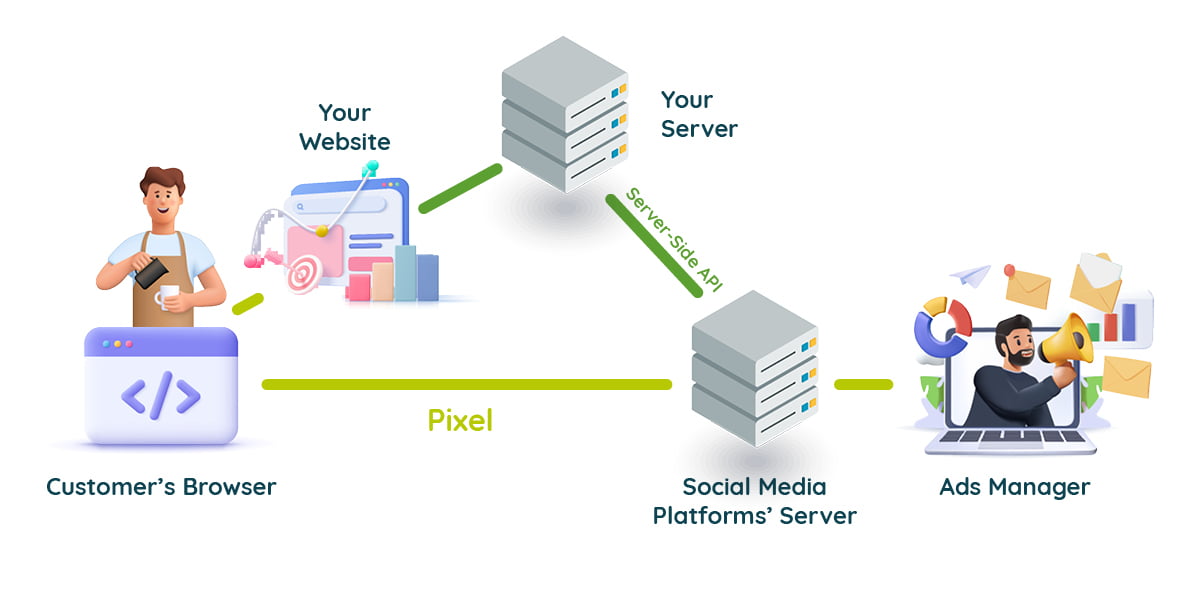 What are the benefits of server side tracking for paid social?
Improves data accuracy

– it bypasses browser restrictions, ad blockers and intelligent tracking provention.

Reduces reliance on third-party cookies

– a viable alternative to track user behavior and gather data to make more informed marketing decisions

Privacy-friendly

– it's first party data collection and GDPR compliant.

Campaign Management

– you'll gain more insight and an accurate view of performance to make informed decisions.
Which Ad Platforms offer a server-side solution:
Meta, Google, TikTok, Microsoft, Pinterest, Twitter, & Snapchat.
Third-Party Attribution Tools
Consider introducing a third-party tool. These tools use advanced algorithms to analyse customer behaviour and attribute conversions to specific marketing activities, providing a comprehensive view of the customer journey.
There's a large number of tools you can use to measure paid social but some of the best on the market are:
Fospha
– (Ecommerce / Paid Social)
Fospha measures clicks and impressions in one view so you know where to invest for profitable growth. The platform helps businesses gain a better understanding of their customer journey and optimise their marketing activities to drive revenue growth.
Pros:
Custom Dashboards

Blended Reporting

Hybrid Attribution (Impression & click-model)

Trial with a 30-day money back guarantee
Cons:
Maybe expensive for Small Businesses

Limited Integrations, may require development.

Third-party data, First-Party may require development
Triple Whale
(Ecommerce for Shopify Sites)
Smart data platforms use their own pixel to collect and transform your data into one viewpoint. Their pixel enables you to compare attribution models and situations at the campaign, ad set and ad level. Majority of customers Ecommerce with only Shopify integration currently.
Features: Server-side Tracking, Multi–Device Tracking, Customer Journey, Multi-Channel Attribution, and Real-time data with support.
Pros:
Shopify Specialist

Suited for Small to Medium Ecommerce Businesses

Offers Free Trials
Cons:
Limited Integration, WooCommerce and BigCommerce in the roadmap this year.
North Beam
(First-Party first – Universal Attribution Tool)
All in compasing attribution tool that aims to provide businesses with a complete view of their marketing data, with features such as cross-device tracking, customer journey mapping, and predictive analytics.
Features: Omni-Channel Dashboards, Full-Funnel View, Cohort Performance Views, Attribution Model Comparison and Flexible Accounting Views.
Pros:
Exclusively First-Party Data

Hourly data Cleansing

LTV Reporting

Hands on Support
Cons:
Maybe expensive for Small Businesses
Summary
Measurement for Paid Social is not getting any easier, start taking these steps to understand your paid social's impact and gain the insights to make informed marketing decisions to deliver success. This will improve CPA's and ROAS as you scale up and increase profitability.