40% of leisure travellers say they now invest more time and effort planning trips than before the pandemic(Google / Kantar, The Expectations of the Evolving Traveler). And that means one thing – the user journey to purchase is getting more and more complex.
The days are long gone when hotels could focus on just paid search. Now they need to be visible across every touch point and that's why it's super exciting that Google has launched Performance Max (PMax) for Travel.
Performance Max for travel goals means you can expand your hotel's reach across Google's inventory including Display, Maps, Search, YouTube, Discover. It saves time, and you can optimise through one unified, goal-based, multi-channel campaign.
We've been digging into it a little more and here are 4 reasons why we're so excited by it.
1. The hotel properties feed – it's easy & fast to set-up
You can create your hotel property listing to advertise in a few different ways.
The first way is super simple, with you finding your hotel via the hotel picker tool map, adding the hotel name and then picking!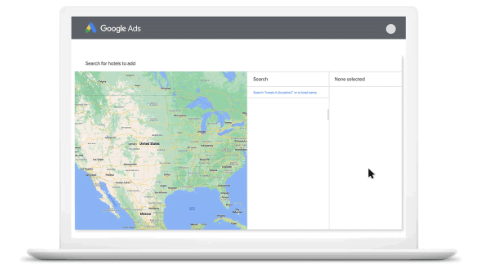 Alternatively, if you've got loads of properties across multiple regions and that all seems a little too manual, you can bulk upload them. All you need to do is create a CSV or a Google Sheet of your hotel listing with the Google Maps URL beside them – it's that easy.
2. Pre-populates assets
Images, ad copy and the URL pre-populates based on the Google Business Profile listing, and bootstraps the whole campaign creation. All that you will need to do is review it, and then change the assets as you see fit.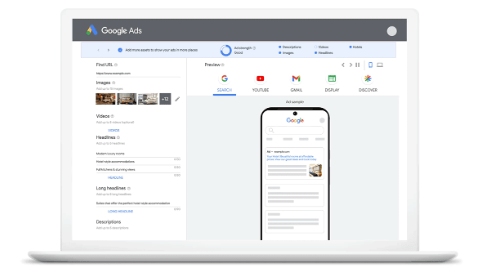 3. Per-property reporting for up to 100 properties
One of the best things about PMAX for travel is that you don't need individual campaigns for each property. You can support up to 100 hotel properties from a single campaign and still get location-level insight. When setting up the campaign it's recommended to split it by theme, so for example you'll have beachfront properties all in one campaign.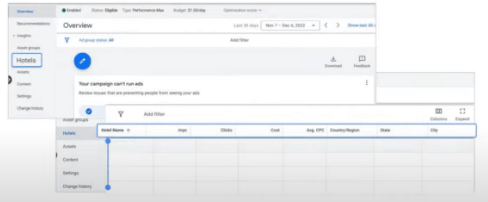 4. Access AI-powered performance
PMAX uses its AI to bid to a target ROAS or CPA. It is recommended to have a budget of five times the daily CPA – this helps drive sufficient volume and insight.
Once you have data and your campaign is triggering in the auction you can see what guests are searching for and really understand what drives sales in the search insights.
Google is also working on enhanced travel-specific audience signals. So these contextual signals can be used to inform your bidding and determine where your ads show and when – watch this space!
In Summary
Performance Max for travel means that you have greater coverage across all of Google's platforms without the faff of having to manage them individually. You've also got their AI taking in all the users' signals and distilling into the perfect mix to drive direct books. Add in that it's really easy to set up and you can see why we're so excited by it here.
If you want to explore PMAX for travel goals, don't hesitate to reach out to our expert team at Broadplace!